Knowledge Base
ATTENTION DEFICIT HYPERACTIVITY DISORDER
by Dr Vaid Ji on Oct 18, 2023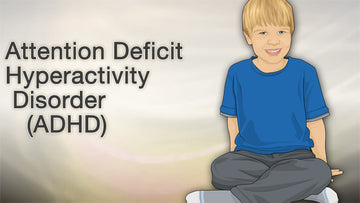 WHAT IS ADHD ?
ADHD is a mental health condition that causes hyperactivity in behavior.
People suffering from this can focus their attention on one task or spend a long time.
You can refuse a bit of trouble to sit still. Many problems in ADHD
There are combinations such as difficulty maintaining attention, hyperactivity and impulsivity Behavior.
ADHD affects children and adults and can last into adulthood.
This is the most common mental disorder that children have to deal with.
Affected children can be overactive and cannot control their impulses
Such behavior interferes with life at school and at home.
ADHD is more common in boys than in girls.
It is usually diagnosed in the early years of school, when the child needs attention.
Adults with ADHD need to manage time, aim, and stay organized.

CAUSES OF ADHD
According to the researcher, the exact cause of ADHD has not been known to anyone. But there can be some causes and risk factors of ADHD.
For example, due to any kind of disease or injury in the brain, the brain does not function properly and is unable to control emotion, behavior.
Children may have a problem with ADHD due to genetic reasons.
Many changes occur in the brain of children affected by ADHD, due to which the brain fails to perform its function.
Chemical imbalances occur in children suffering from ADHD, in which the chemical imbalances of the children's brain can be out.
During pregnancy, the woman does not get a balanced diet, due to poor lifestyle, alcohol, smoking and consumption of drugs, the child's brain does not develop and the child becomes mentally weak.

RISK FACTORS
The child was born prematurely.
Mother's drinking during pregnancy.
Come in contact with a toxic substance during pregnancy.
Having a mental disorder can put you at risk for ADHD.
Certain environmental toxins may increase the risk of ADHD.

WHAT ARE THE SYMPTOMS OF ADHD?
Symptoms in children
Not following anyone's instructions.
Don't listen to anyone.
Making mistakes everywhere be it at school or at home.
Not doing any work properly.
Forgetting to do your homework.
Always be sad
Don't be patient about anything.
Shouting at the slightest thing.
Talk more.
 
These symptoms are seen on elders
Don't get distracted by anything easily.
Nothing is planned.
Always be sad
Always be in depression.
Getting restless over small things.
Having problems with jobs and relationships.
Always delaying everything.
Turning things around

DIAGNOSES OF ADHD
Finding out if a child has ADHD is a process with several steps. There is no single diagnosis of ADHD. However, all problems are taken into account to make an ADHD diagnosis. You may ask for similar symptoms, such as anxiety, depression, sleep problems and some types of learning disabilities.
Common tests can be done to rule out other problems along with ADHD-like symptoms in children.
To diagnose ADHD, parents are usually asked about the symptoms in their children. Apart from this, information about the behavior can be obtained from the teacher.
If any health problems are noticed, the doctor does a physical examination.
If a parent feels that their child is showing symptoms of ADHD, talk to their doctor. Apart from this, you can tell about ADHD from the teacher of the child. Investigates the problems of the children in the school so that their actions can be corrected. If there are signs of ADHD, the child may be referred to a specialist for treatment.

AYURVEDIC MANAGEMENT OF ADHD
In Ayurveda some references about abnormal behavior are discussed under features of vataprakriti anawasthitta chittatva mano vibhrama, buddhi vibhrama, smriti vibhrama, sheela vibhrama, cheshta vibhrama and aachar vibhrama which can be correlated to ADHD. Acc. to Ayurveda the main reason for ADHD is vitiation of dhee (rational thinking), dhriti(retaining power of mind), smriti(memory) which causes abnormality and abnormal conduct resulting into improper contact of the senses with their objectives and give rise to inattention, hyperactivity and impulsivity.
Acc. to Ayurveda psychological problems start when fundamental imbalances develop in the biological intelligence that controls all bodily processes.
Vata imbalance contributes to anxiety, fear, mental instability and insomnia.
Pitta imbalance may give rise to anger and irritability.
Kapha imbalance may lead to lethargy and depression.
PANCHKARMA TREATMENT FOR ADHD :
ABHYANGA
SHIRODHARA
SHIROPICHU
SHIROABHYANGA
SHIROBASTI