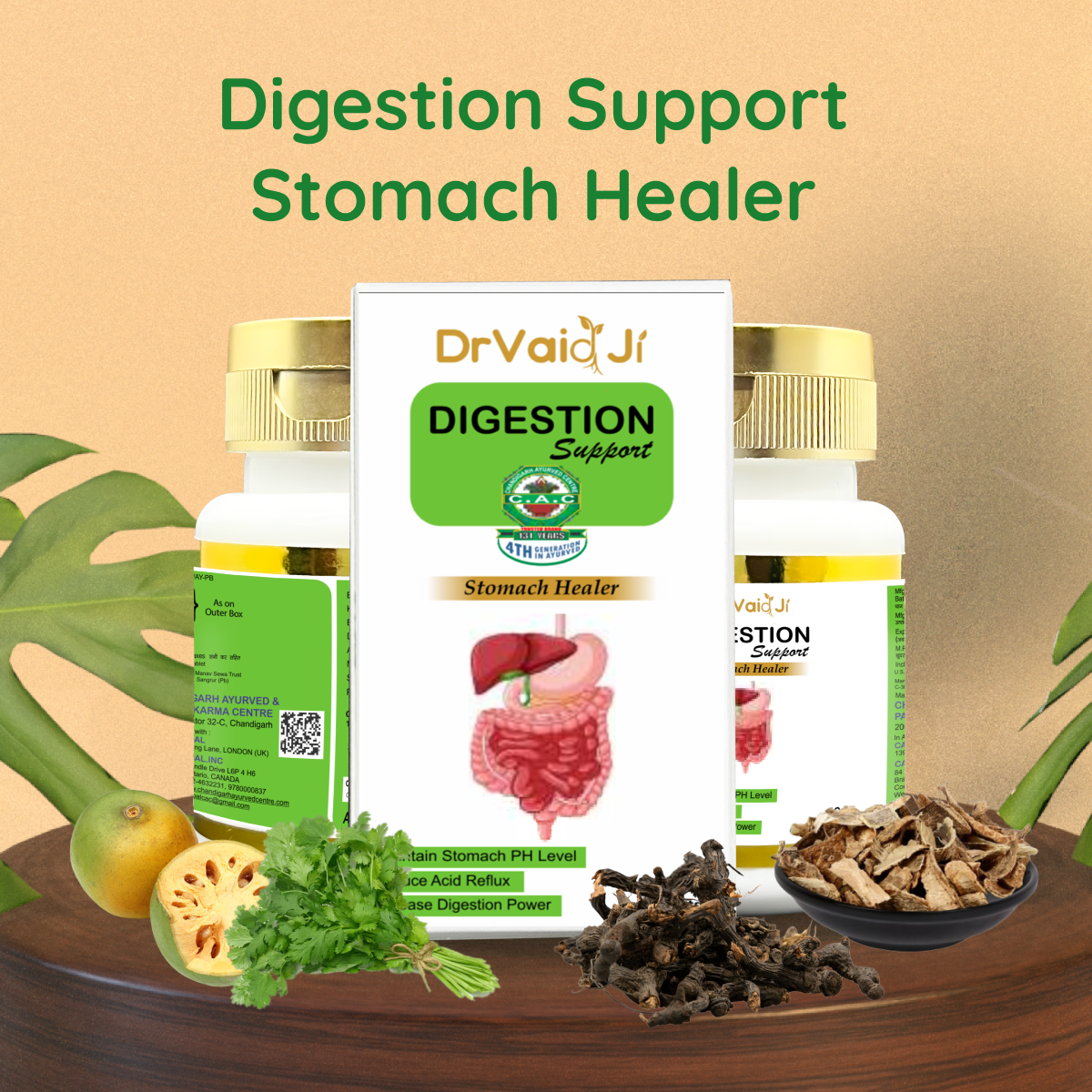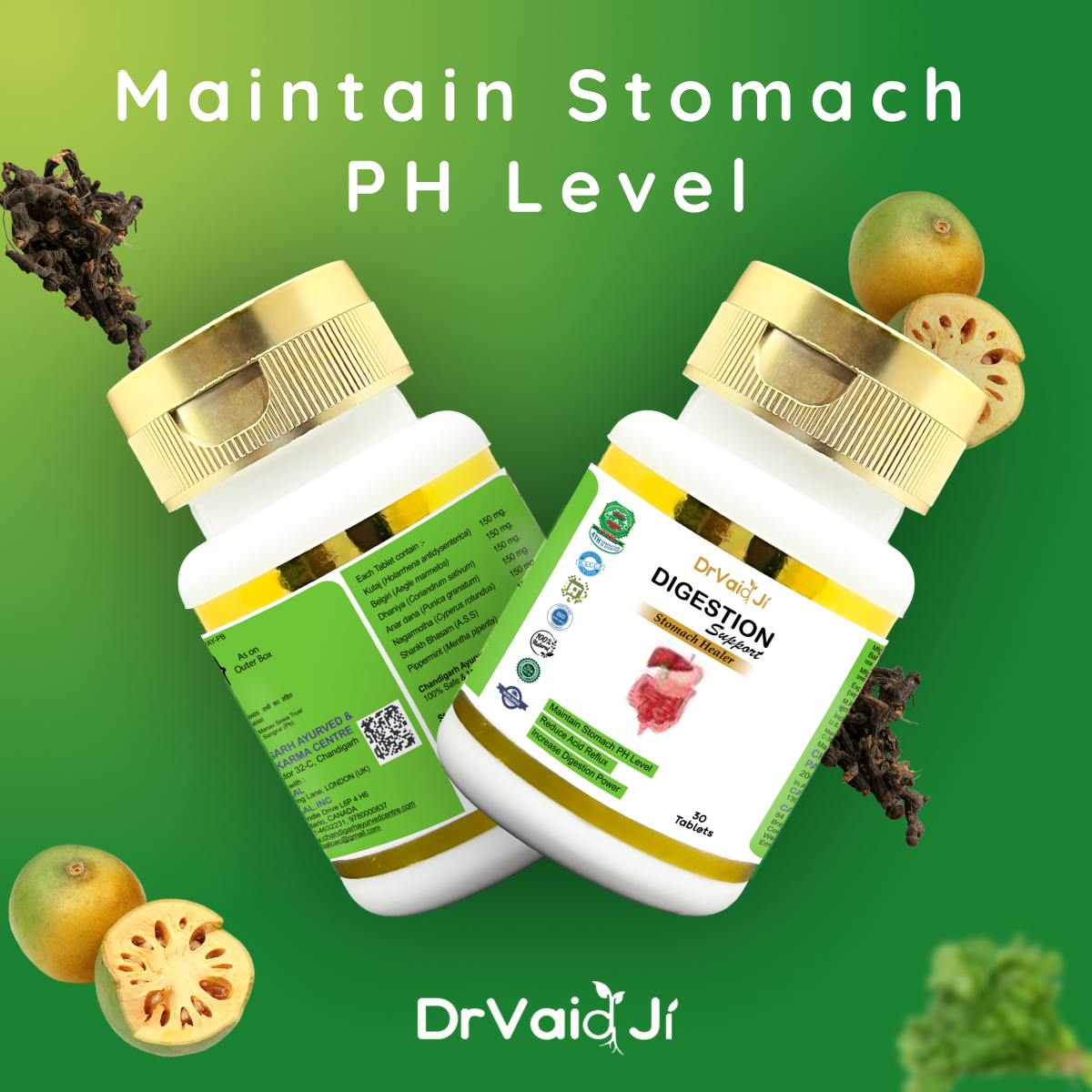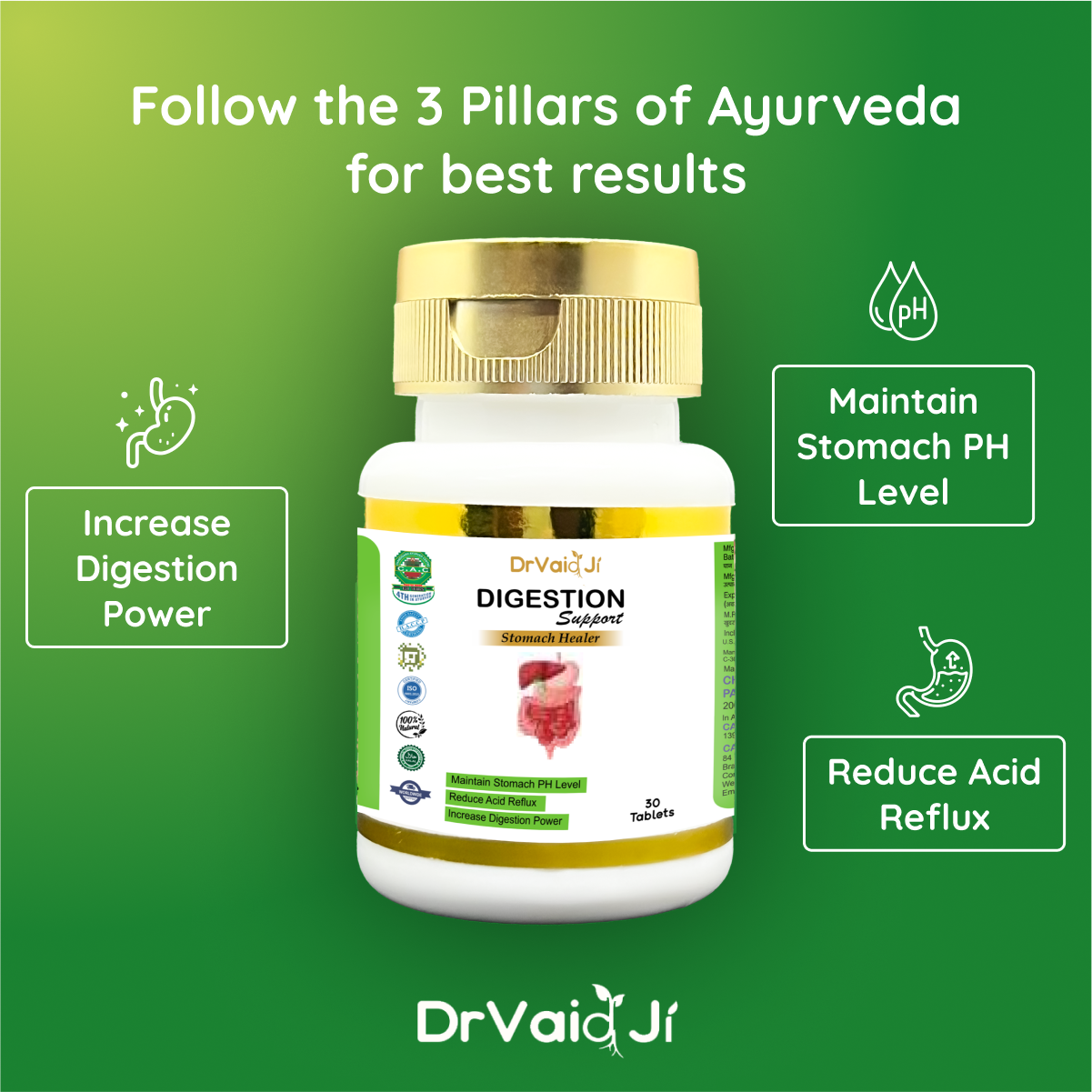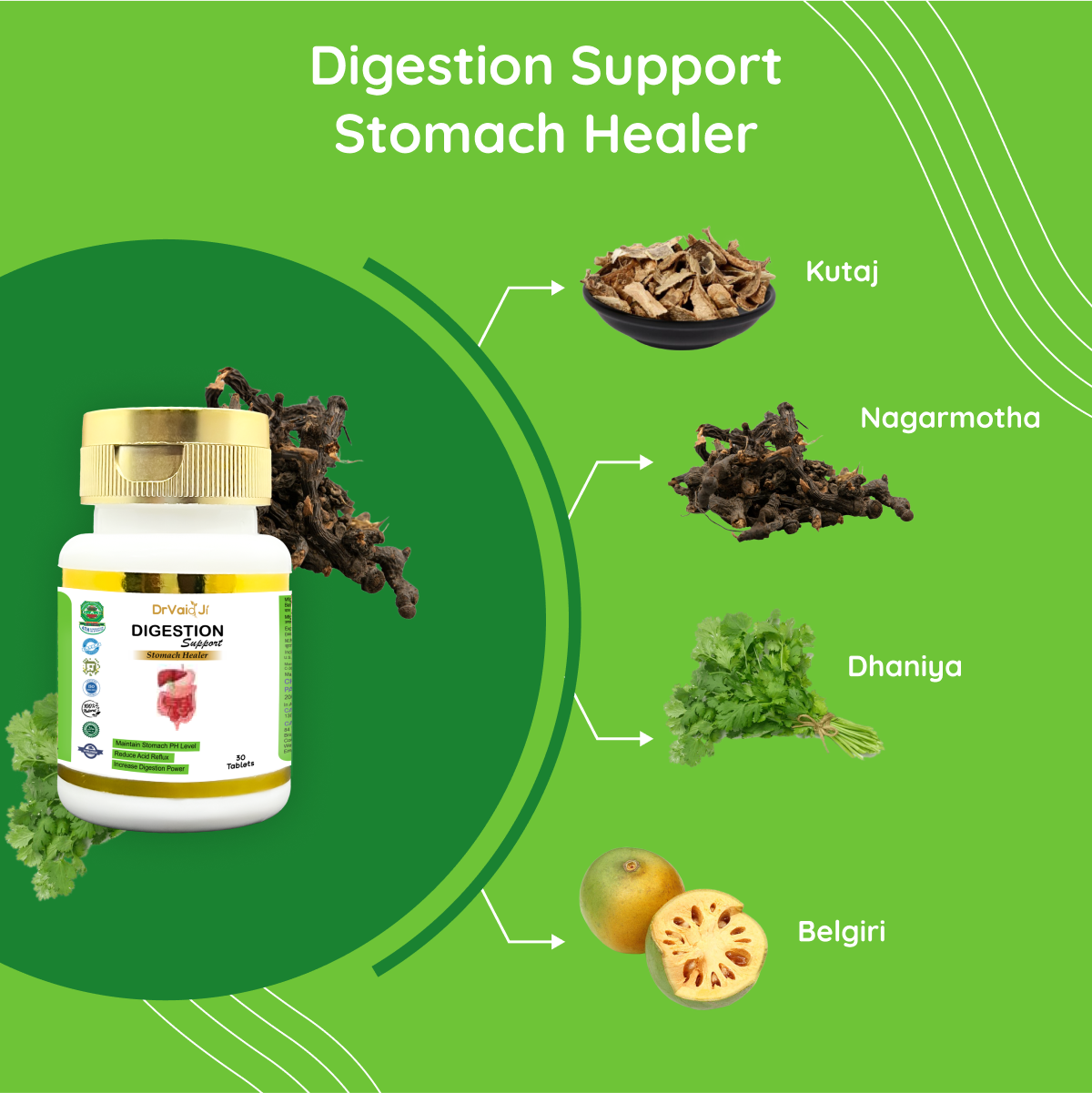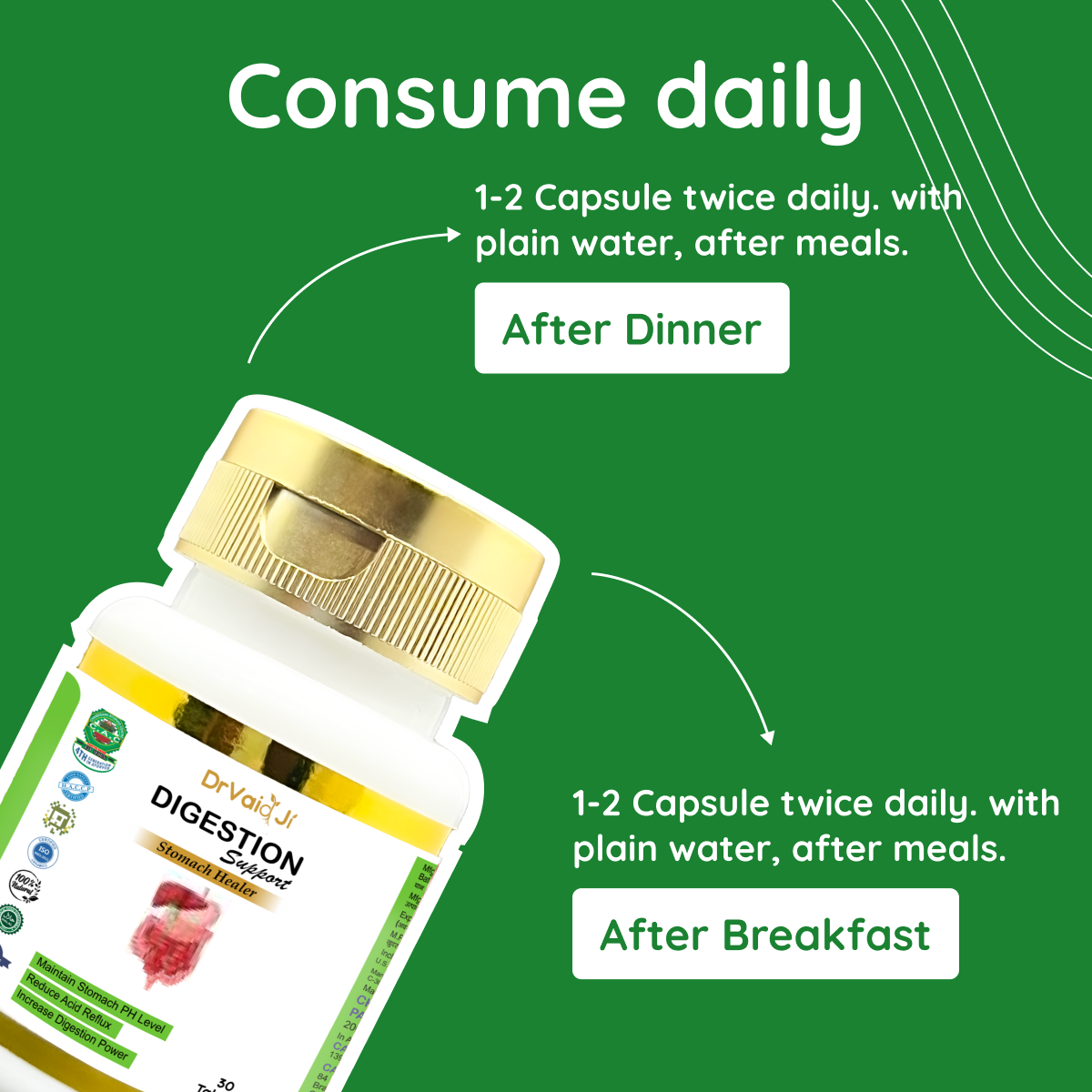 Sale price
₹ 360.00
Regular price
Tax included.
Benefits of Digestion Support Tablet
Helps in digestion
Relieves Acidity
Removes Flatulence
Relieves constipation
Manages IBS, Ulcerative Colitis, Gastritis etc
Dosage– 1 tablet morning and evening or as directed by physicians.
Free Ayurvedic Consultation
100% Pure Ayurvedic
World Wide Delivery
No
Side-Effects

Guarantee safe & secure checkout
Product description
Shipping & Return
Description
Dr.Vaid Ji Digestion Support tablet is unique blend of best digestive herbs like kutaz chal, bilav, dhania, mustak, shankh bhasm, piper mint, and dadim that maintain natural Ph. balance in the stomach and aid digestion of all types of food. The herbs present in this control acidity, gas, flatulence and constipation. These all complex problems are root cause of all diseases. If digestive system is proper it leads to proper assimilation of the nutrients in the body.   
It contains herbs that have anti-diarrheal, anti- helminthic, antipyretic, antitussive and anti-inflammatory properties.
It has most prominent benefit in managing diarrhea and dysentery due to its antimicrobial activity, helpful to manage IBS, ulcerative colitis, gastritis.
It helps to improve Agni and digests the food easily and helpful in constipation.
It reduces heartburn in several ways, one of which is by reducing acid reflux.
Herbs In Digestion Support Tablet
Dhania
Kutaja
Belgiri
Nagarmotha
How To Use - Digestion Support tablet
1
Take
1-1 Tablet twice a day
2
Consume
Consume with normal water
3
Time Duration
Take half an hour after food
For Best Result: Use Daily.
ORDER NOW
Purchases are shipped from our warehouse in Chandigarh (UT) by courier.
Due to COVID-19, we cannot commit on delivery timelines. We do request you to bear with us in the case of slight delays. Please refer to our Covid Safety Measures Policy for more details. As per safety protocols while we are currently accepting online orders to ship within India and worldwide, due to changing nature of the situation, we reserve the right to pause deliveries to any country at any time if so warranted.
Order Deliveries Will Be Made Between
10:00 AM – 6:00 PM Monday – Saturday. Excluding public holidays.
Goods will need to be signed for upon delivery. If you cannot be there to sign for your delivery please suggest an alternative i.e. a family member, colleague, neighbor, etc. However, the brand takes no responsibility for goods signed by an alternative person.
Certain courier partners may request an OTP to complete delivery. This will need to be provided for completion of delivery. OTP will be sent to the number inputted at time of placing the order.
VaidJi is not responsible for damage after delivery.
For all claims for shortages or damages must be reported to customer service within 48 hours of the day of delivery.
Shipping and handling rates may vary based on product, packaging, size, volume, type and other considerations. The shipping and handling charges are given at the time of check out and consumers will know about this before making payments.
We ship your ordered products through Indian Post, the normal service. In India, it takes around 3 to 5 days to deliver the package. Outside India, it takes around 7 to 10 days.
The brand will only be responsible for compliance with export and customs laws of the country where the products are being shipped from. The consignee must ensure compliance with import and customs laws of the country they are having the products shipped to.
The number of products ordered by the customer may exceed the total number permissible by their country for clearance upon arrival. In this regard, the customer must consider these limits placed by their country while ordering products from the brand.
The brand will fulfill all international orders from its end. However, the consignee will be responsible for the entry of the products to the country they have chosen to have the products shipped to and for compliance with all applicable laws pertaining to the same, including without limitation, payment of Customs Duty Charge / Import Duty / VAT / Other applicable government taxes/Convenience charges, etc. on arrival in the destination country.
In the event and for any reason whatsoever, an order does not get cleared by customs in the destination country, the brand may, at its sole and absolute discretion, consider a refund of the customer's order amount after deducting the shipping costs, return duty charges and any other charges incurred by the brand while processing the order and having the products shipped to the customer.
Please confirm that your order and the products therein are in compliance with and the delivery permissible under the laws of your country.
Customer Reviews
The best part is its perfect value for money and also made from natural composition. Its comes with 30 tabs thats last upto 2 months overall it improves my digestion regulates metabolism.
I used digestion support to see if it helps the body in digestion and aids metabolism. It worked really well , I used to feel tired and sleepy after lunch, but after taking 1 tablet post meal, I did not feel dizzy and sleepy.
I have a weak immune system, and I used to get sick frequently. After using these digestion support tablet , I noticed a significant improvement in my immunity. I feel more resilient against infections now.
I changed to this dr vaidji ayurvedic medicine for my daily medicine from a previous one and found it to be superior. It has indicated improvement in my diarrhea. In comparison to other costly brands, the cost is fairly reasonable.
If you want to keep your stomach healthy plz take it. I found awesome results.