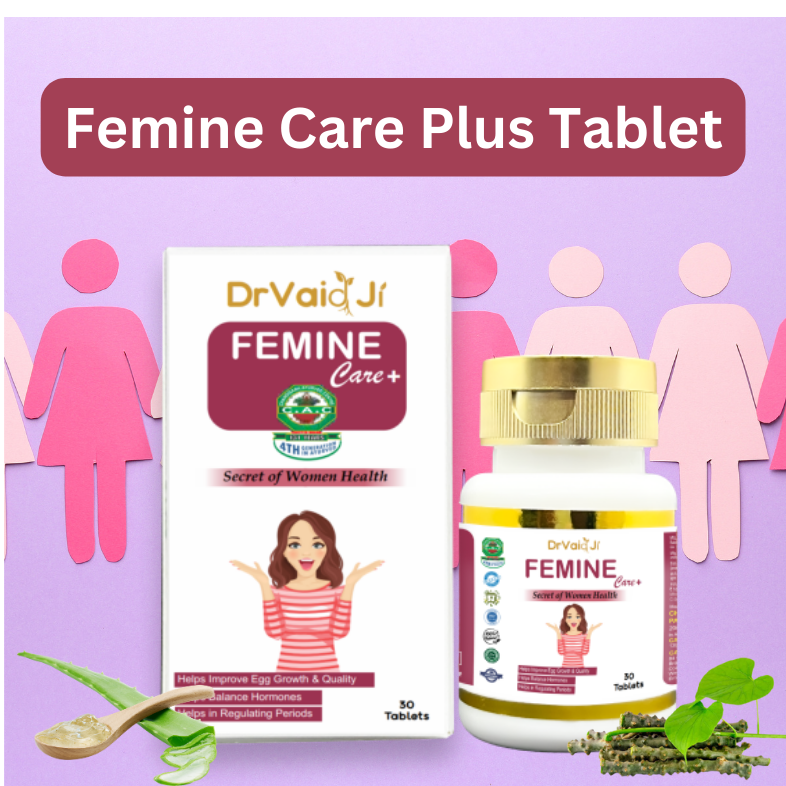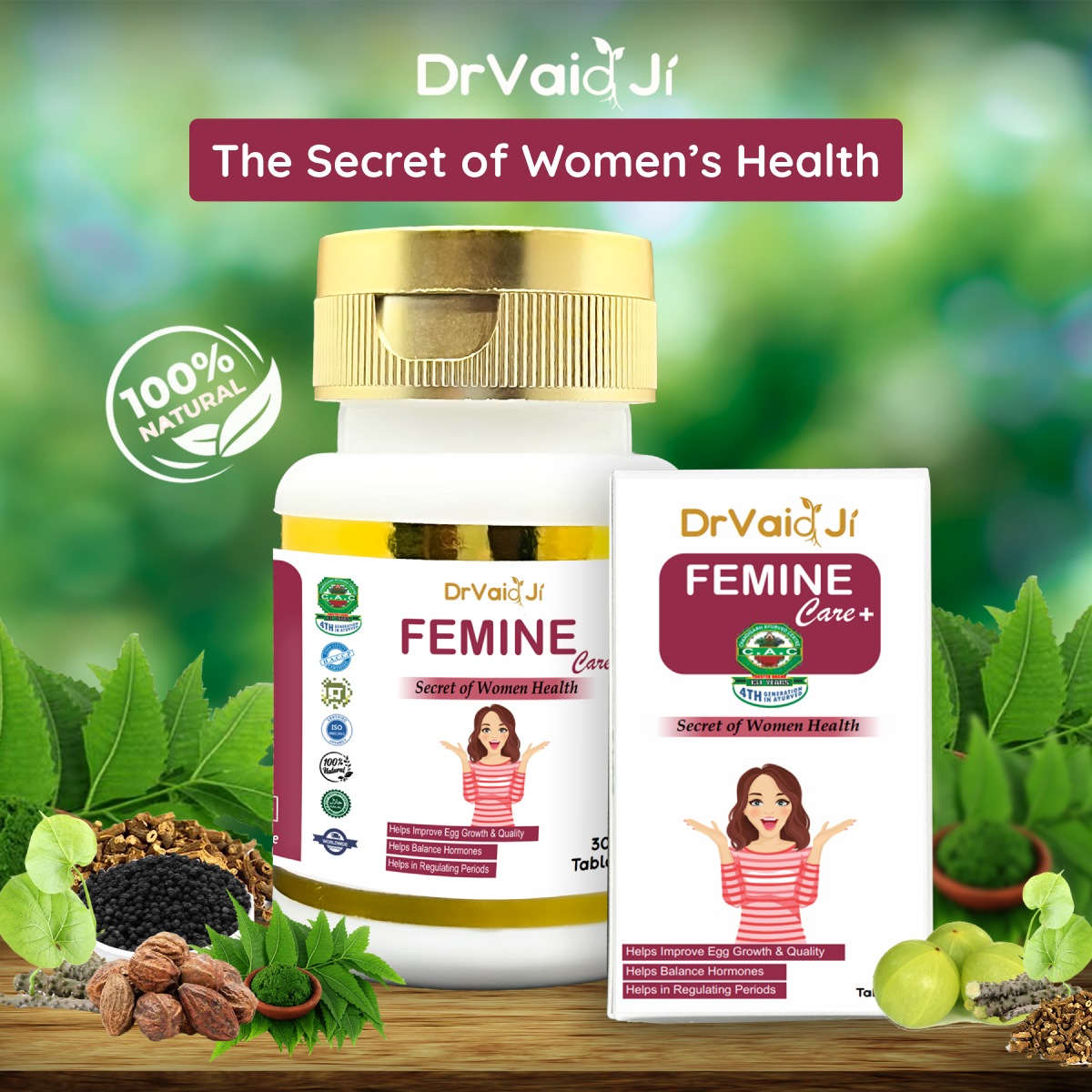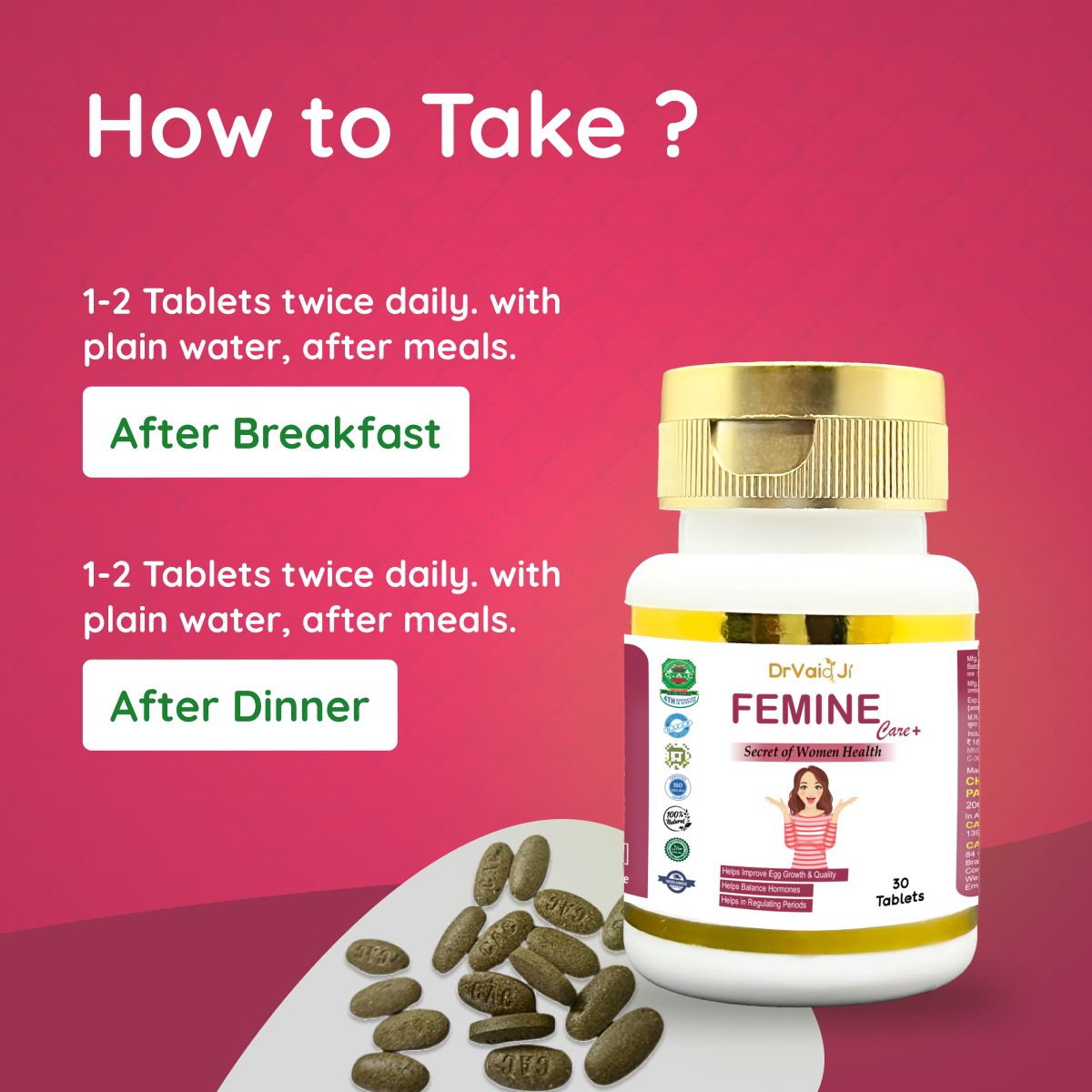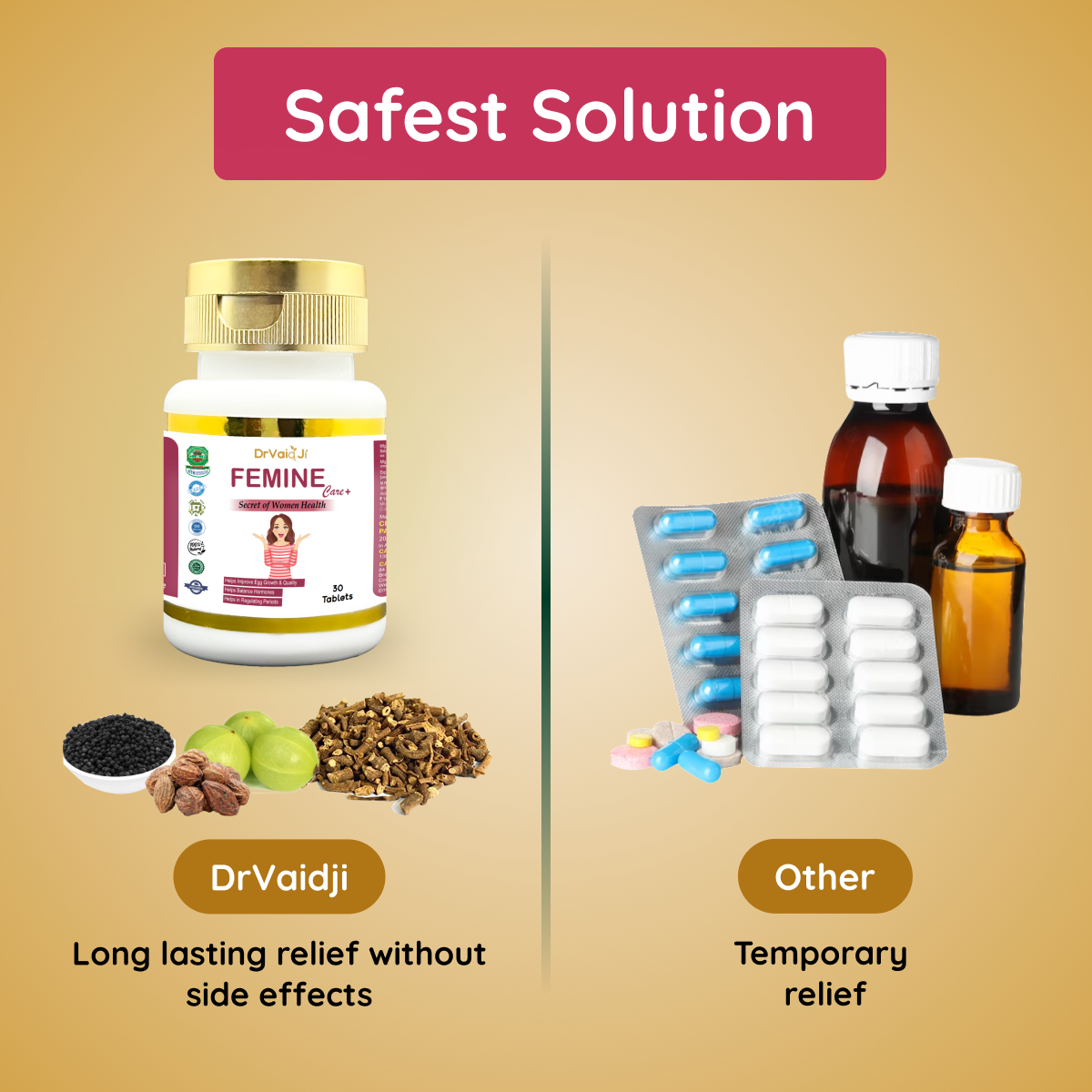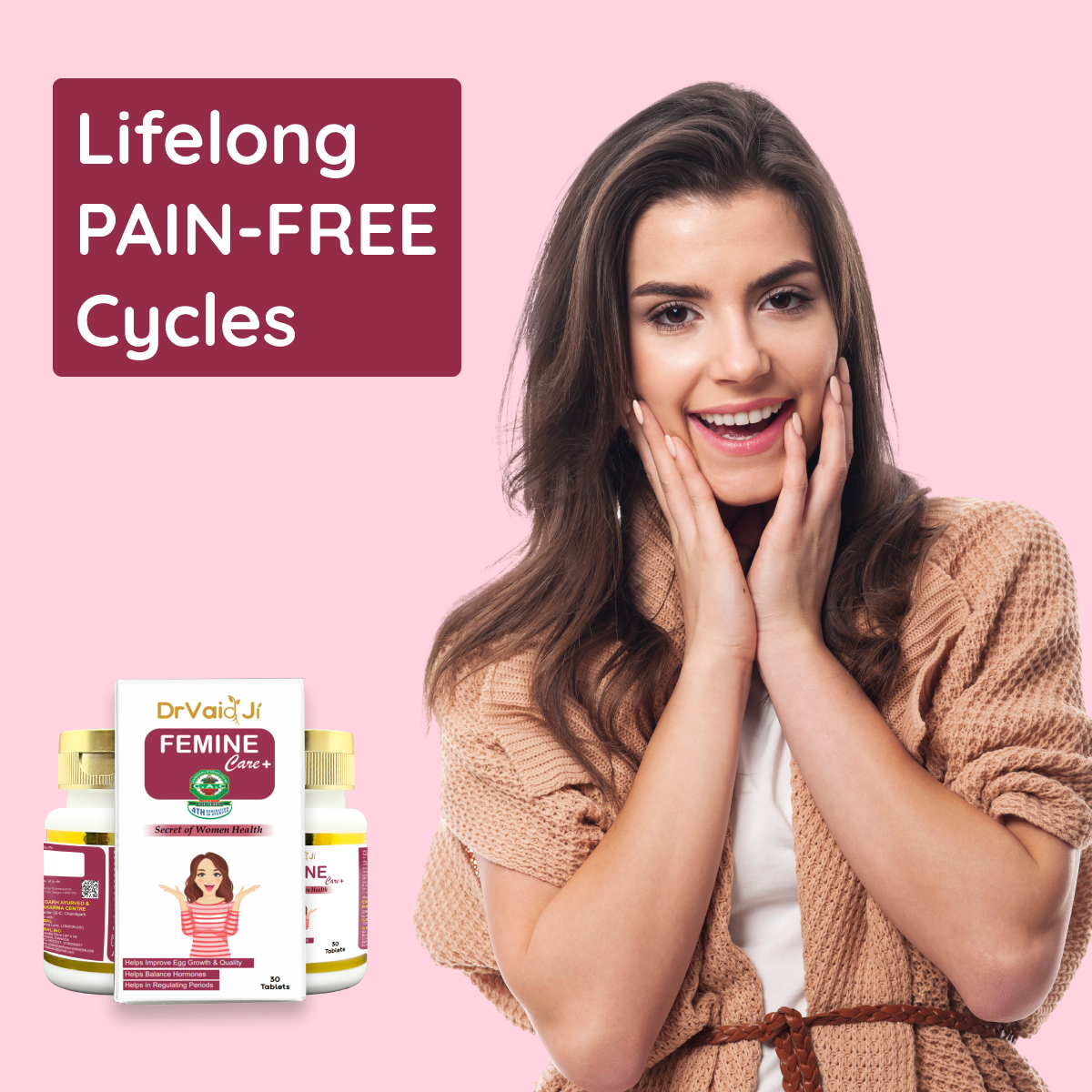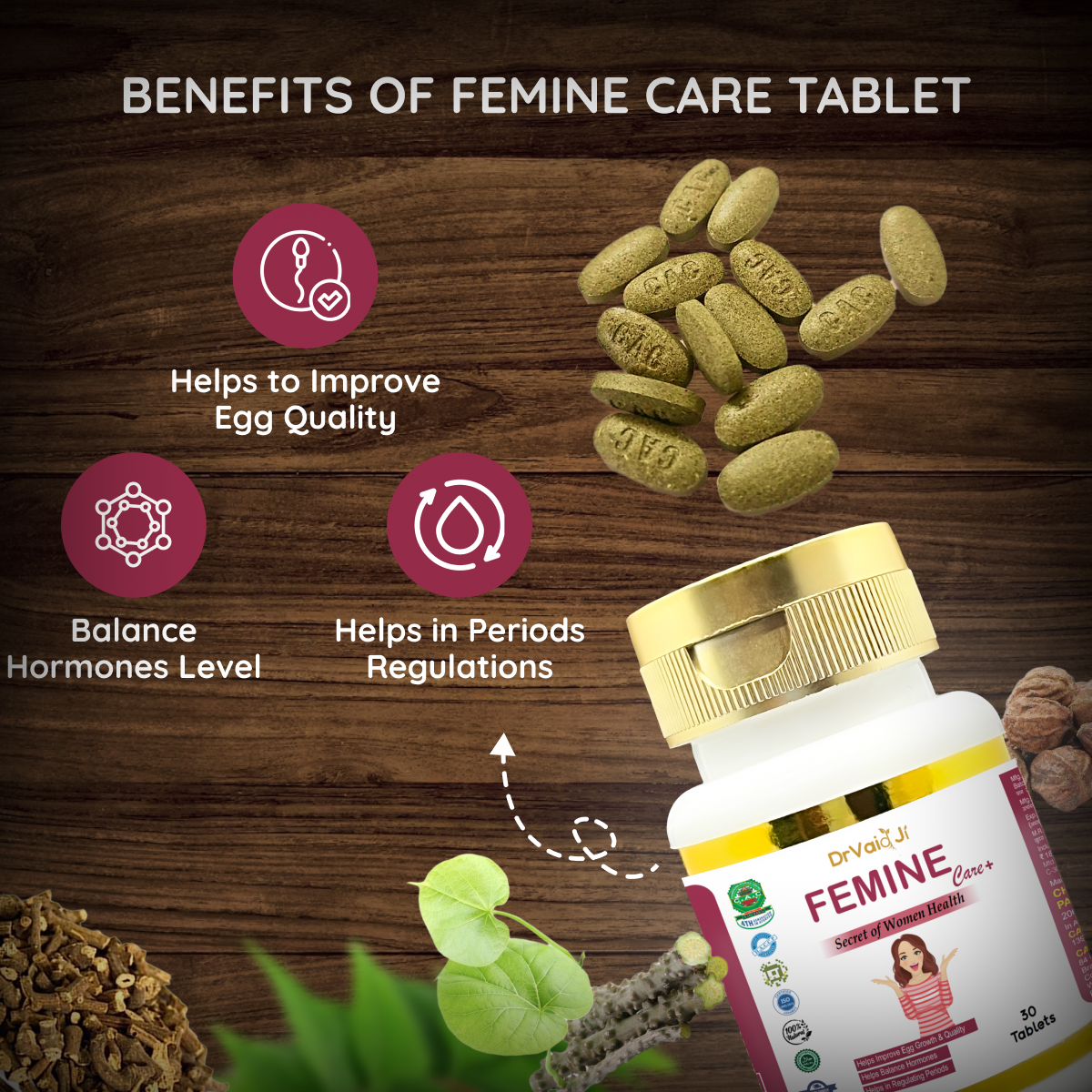 Sale price
₹ 540.00
Regular price
Tax included.
Benefits of Femine Care Plus Tablet
Enlarged size of uterus
Polycystic ovarian disease
Endometriosis
General weakness
Irregular periods
Uterine fibroids
Dosage– 1 Tablet morning and evening or as directed by physicians.
Free Ayurvedic Consultation
100% Pure Ayurvedic
World Wide Delivery
No
Side-Effects

Guarantee safe & secure checkout
Product description
Shipping & Return
Description
Dr. Vaid Ji Femine care plus tablet is a complete natural remedy of female-related disorders. It not only treats female health problems but also keeps the female reproductive system healthy. The tablets consist of several ayurvedic herbs like muramakki, sonth, hara kasis, rajpravartini vati, kikar, nagkesar, ghritkumari and shivlingi which help in balancing hormones and maintaining normal functions of reproductive organs. The herbs have anti-inflammatory, immune-modulatory and antioxidant properties. They help in dealing with various disorders such PCOD, amenorrhea, painful periods, etc.
It acts a stimulant and to increase lesser menstrual flow.
It has detoxification properties and is rich in natural iron content. The iron cures anemia and weakness.
It is effective against human gynecologic cancer cells.
It nourishes the uterine tissue and promote healthy growth of the endometrial lining.
Herbs In Femine Care Plus Tablet
Aloe-Vera
Hara kasis
Kikar
Sonth
Other ingredients: Nagkesar
How To Use - Femine Care Plus Tablet
1
Take
1-1 Tablet twice a day
2
Consume
Consume with normal water
3
Time Duration
Take half an hour after food
For Best Result: Use Daily.
ORDER NOW
Purchases are shipped from our warehouse in Chandigarh (UT) by courier.
Due to COVID-19, we cannot commit on delivery timelines. We do request you to bear with us in the case of slight delays. Please refer to our Covid Safety Measures Policy for more details. As per safety protocols while we are currently accepting online orders to ship within India and worldwide, due to changing nature of the situation, we reserve the right to pause deliveries to any country at any time if so warranted.
Order Deliveries Will Be Made Between
10:00 AM – 6:00 PM Monday – Saturday. Excluding public holidays.
Goods will need to be signed for upon delivery. If you cannot be there to sign for your delivery please suggest an alternative i.e. a family member, colleague, neighbor, etc. However, the brand takes no responsibility for goods signed by an alternative person.
Certain courier partners may request an OTP to complete delivery. This will need to be provided for completion of delivery. OTP will be sent to the number inputted at time of placing the order.
VaidJi is not responsible for damage after delivery.
For all claims for shortages or damages must be reported to customer service within 48 hours of the day of delivery.
Shipping and handling rates may vary based on product, packaging, size, volume, type and other considerations. The shipping and handling charges are given at the time of check out and consumers will know about this before making payments.
We ship your ordered products through Indian Post, the normal service. In India, it takes around 3 to 5 days to deliver the package. Outside India, it takes around 7 to 10 days.
The brand will only be responsible for compliance with export and customs laws of the country where the products are being shipped from. The consignee must ensure compliance with import and customs laws of the country they are having the products shipped to.
The number of products ordered by the customer may exceed the total number permissible by their country for clearance upon arrival. In this regard, the customer must consider these limits placed by their country while ordering products from the brand.
The brand will fulfill all international orders from its end. However, the consignee will be responsible for the entry of the products to the country they have chosen to have the products shipped to and for compliance with all applicable laws pertaining to the same, including without limitation, payment of Customs Duty Charge / Import Duty / VAT / Other applicable government taxes/Convenience charges, etc. on arrival in the destination country.
In the event and for any reason whatsoever, an order does not get cleared by customs in the destination country, the brand may, at its sole and absolute discretion, consider a refund of the customer's order amount after deducting the shipping costs, return duty charges and any other charges incurred by the brand while processing the order and having the products shipped to the customer.
Please confirm that your order and the products therein are in compliance with and the delivery permissible under the laws of your country.
Customer Reviews
I have consumed this medicine for almost 2 month now and the periods was normal no heavy bleeding lasted for 4-5 days with normal flow no pain. It was one of the best experience ever I had of my periods.Thanks Dr Vaid Ji!!
I was facing heavy periods problem since puberty and use to feel very low on energy and feel uncomfortable coz bleeding was not manageable but because of this product bleeding is now manageable and feels good after starting with this medicine
amazing results
I was diagnosed with PCOD in the year 2019 and had a very heavy flow since the start of my periods. I tried many medicines to control my heavy bleeding and to get rid of my PCOD but nothing did worked well for me . everything made me more worse. Luckily one day I just came across this medicine and it did worked well amazingly for me. In just a month that i have started it helped me a lot i also follow healthy diet during this time period .My period were on time and now waiting for the next month.I was very happy
works well
I am very happy with this product my periods are regular now and bleeding is less as compared to previous
GReat for PCOS
I had this medicine since 4 months. phle meko 2 saal se PCOS tha aur me gym bhi jaari thi abhi last 5 months se but kuch farak nahipd raha tha. periods regulate hi ni hore the mere but then ye medicine or cyst heal and kapha balance start kia mene. aur ek aur thi detox sachet karke usse mko 3 months m hi cyst resolve hogye. m krungi isko 2-3 mhine aur continue but just wanted to give a review k it actually worked and guys go for it!!!