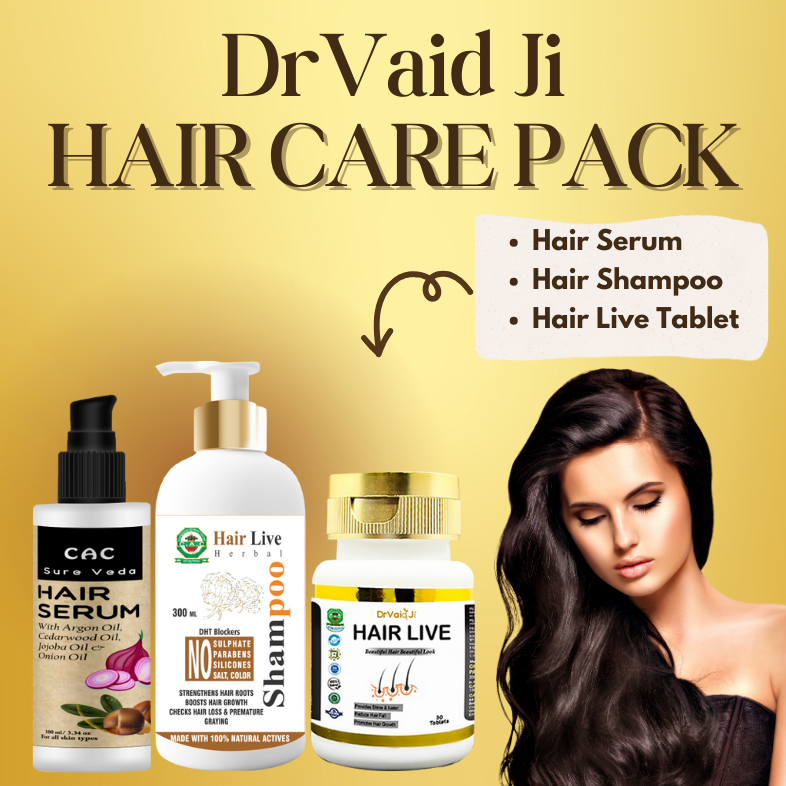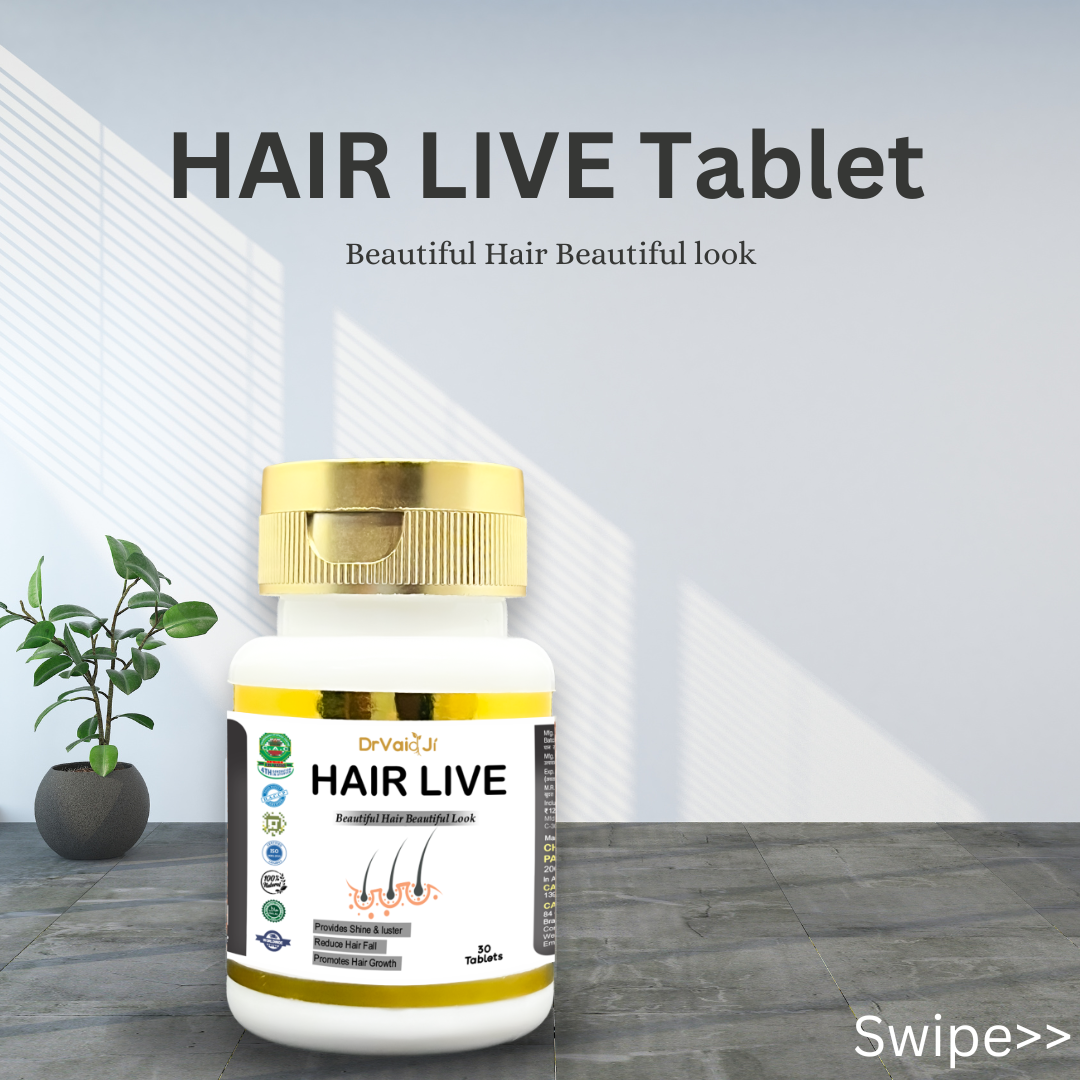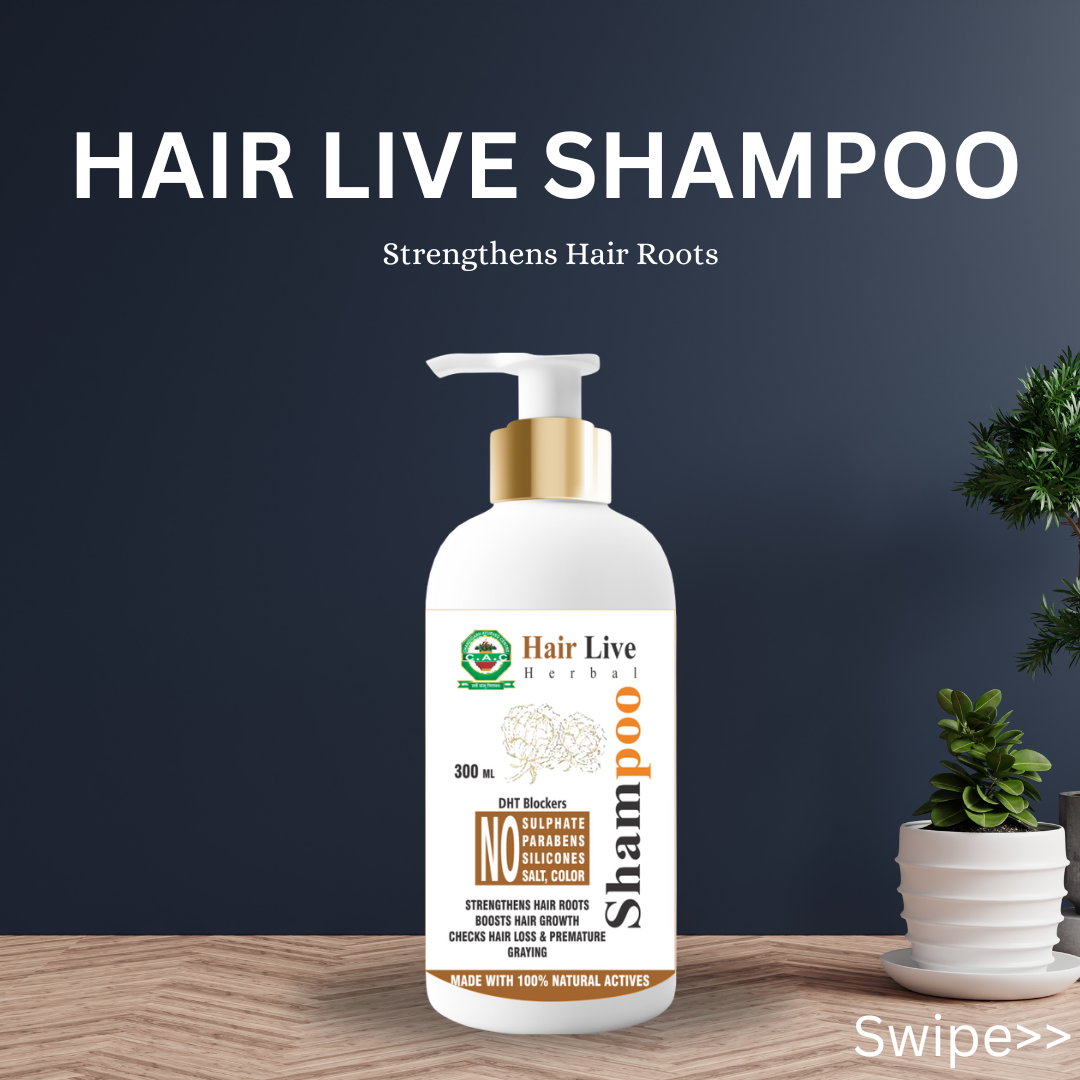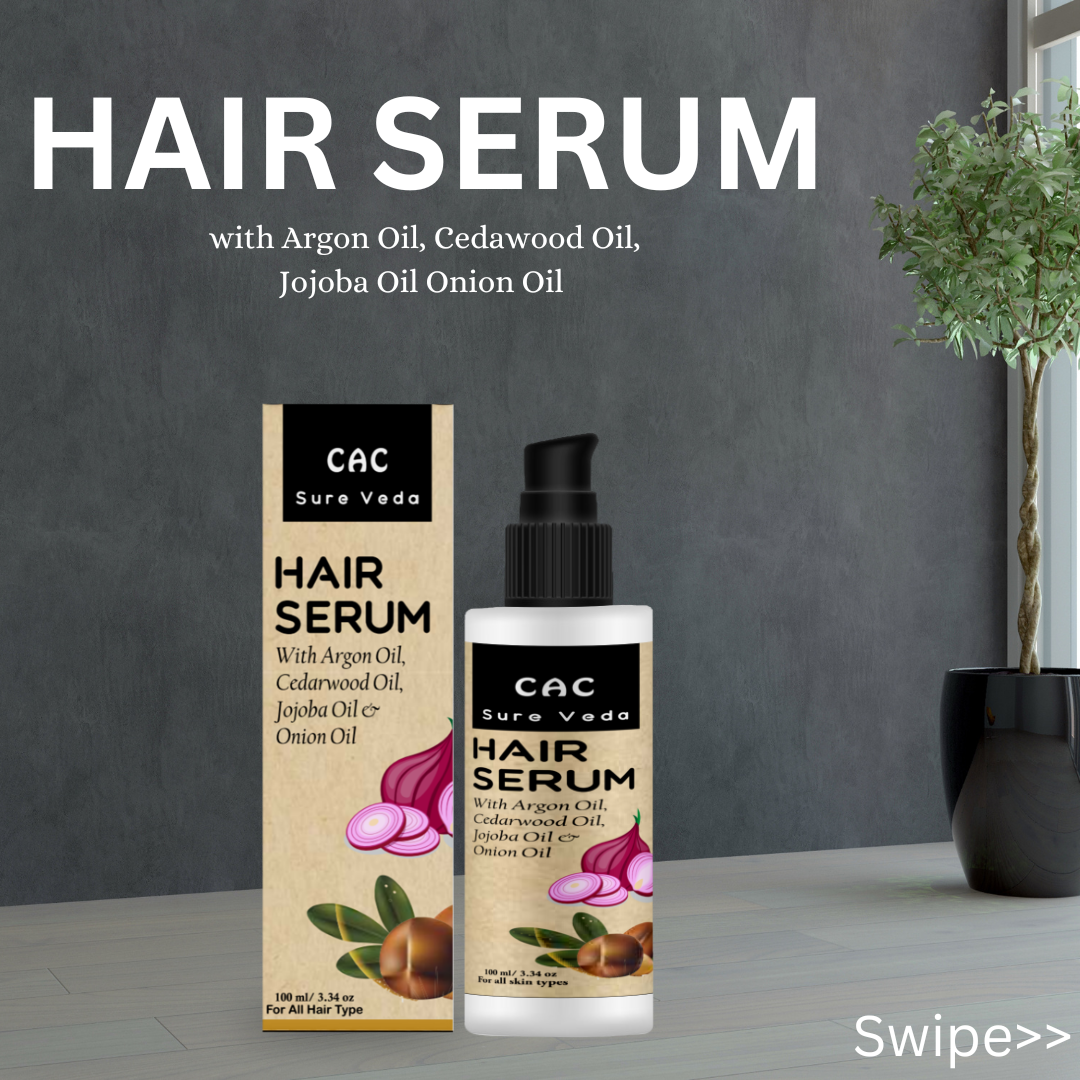 Sale price
₹ 1,029.00
Regular price
Tax included.
Benefits of Hair Care Pack
Strengthen hair follicles
Reverse graying of hairs
Provide shine and luster
Helps in Hairloss, Hairfall, Alopecia
Promote hair growth
Reduce hair fall and hair damage
Free Ayurvedic Consultation
100% Pure Ayurvedic
World Wide Delivery
No
Side-Effects

Guarantee safe & secure checkout
Hair Care Pack
Sale price
₹ 1,029.00
Regular price
Product description
Shipping & Return
Description
DrVaidJi Hair Care Pack gives you complete hair treatment that you need to have strong and shiny hair. It has Hair serum and Hair Live Shampoo along with Hair Live Tablet to strengthen and provide nourishment to your hair internally and externally. Hair live Tablet contains the best herbal based formula for all Hair related problems like dandruff, greying of hair, baldness, alopecia, hairfall and hair breakage. The regular use of hair serum prevents hair thinning, strengthens roots, protects against future breakage and allows hair regrowth. The Hair live Shampoo makes hair shiny well manageable and fresh. This pack helps you address your hair problems naturally.
It moisturizes your hair and scalp and protect your hair from everyday damage.
It purifies the blood and enhances hair natural colour by preventing premature greying of hair.
It reduces split ends, and make your hair lustrous.
Regular application strengthens your hair roots and keeps them well-nourished.
Who should take it
1
Thinning hair all over the head
2
Loss of hair on scalp and body
3
Receding hairline
4
Loss of small patches of hair on scalp
5
Dandruff, Hairfall, Hairloss
ORDER NOW
Purchases are shipped from our warehouse in Chandigarh (UT) by courier.
Due to COVID-19, we cannot commit on delivery timelines. We do request you to bear with us in the case of slight delays. Please refer to our Covid Safety Measures Policy for more details. As per safety protocols while we are currently accepting online orders to ship within India and worldwide, due to changing nature of the situation, we reserve the right to pause deliveries to any country at any time if so warranted.
Order Deliveries Will Be Made Between
10:00 AM – 6:00 PM Monday – Saturday. Excluding public holidays.
Goods will need to be signed for upon delivery. If you cannot be there to sign for your delivery please suggest an alternative i.e. a family member, colleague, neighbor, etc. However, the brand takes no responsibility for goods signed by an alternative person.
Certain courier partners may request an OTP to complete delivery. This will need to be provided for completion of delivery. OTP will be sent to the number inputted at time of placing the order.
VaidJi is not responsible for damage after delivery.
For all claims for shortages or damages must be reported to customer service within 48 hours of the day of delivery.
Shipping and handling rates may vary based on product, packaging, size, volume, type and other considerations. The shipping and handling charges are given at the time of check out and consumers will know about this before making payments.
We ship your ordered products through Indian Post, the normal service. In India, it takes around 3 to 5 days to deliver the package. Outside India, it takes around 7 to 10 days.
The brand will only be responsible for compliance with export and customs laws of the country where the products are being shipped from. The consignee must ensure compliance with import and customs laws of the country they are having the products shipped to.
The number of products ordered by the customer may exceed the total number permissible by their country for clearance upon arrival. In this regard, the customer must consider these limits placed by their country while ordering products from the brand.
The brand will fulfill all international orders from its end. However, the consignee will be responsible for the entry of the products to the country they have chosen to have the products shipped to and for compliance with all applicable laws pertaining to the same, including without limitation, payment of Customs Duty Charge / Import Duty / VAT / Other applicable government taxes/Convenience charges, etc. on arrival in the destination country.
In the event and for any reason whatsoever, an order does not get cleared by customs in the destination country, the brand may, at its sole and absolute discretion, consider a refund of the customer's order amount after deducting the shipping costs, return duty charges and any other charges incurred by the brand while processing the order and having the products shipped to the customer.
Please confirm that your order and the products therein are in compliance with and the delivery permissible under the laws of your country.
Customer Reviews
Good product
Mai hairfall or dandruff se bhut preshan thi lekin jab se mene Dr. VAID JI ki hair care kit use karna shuru kiya tab se mujhe bhut aram hai