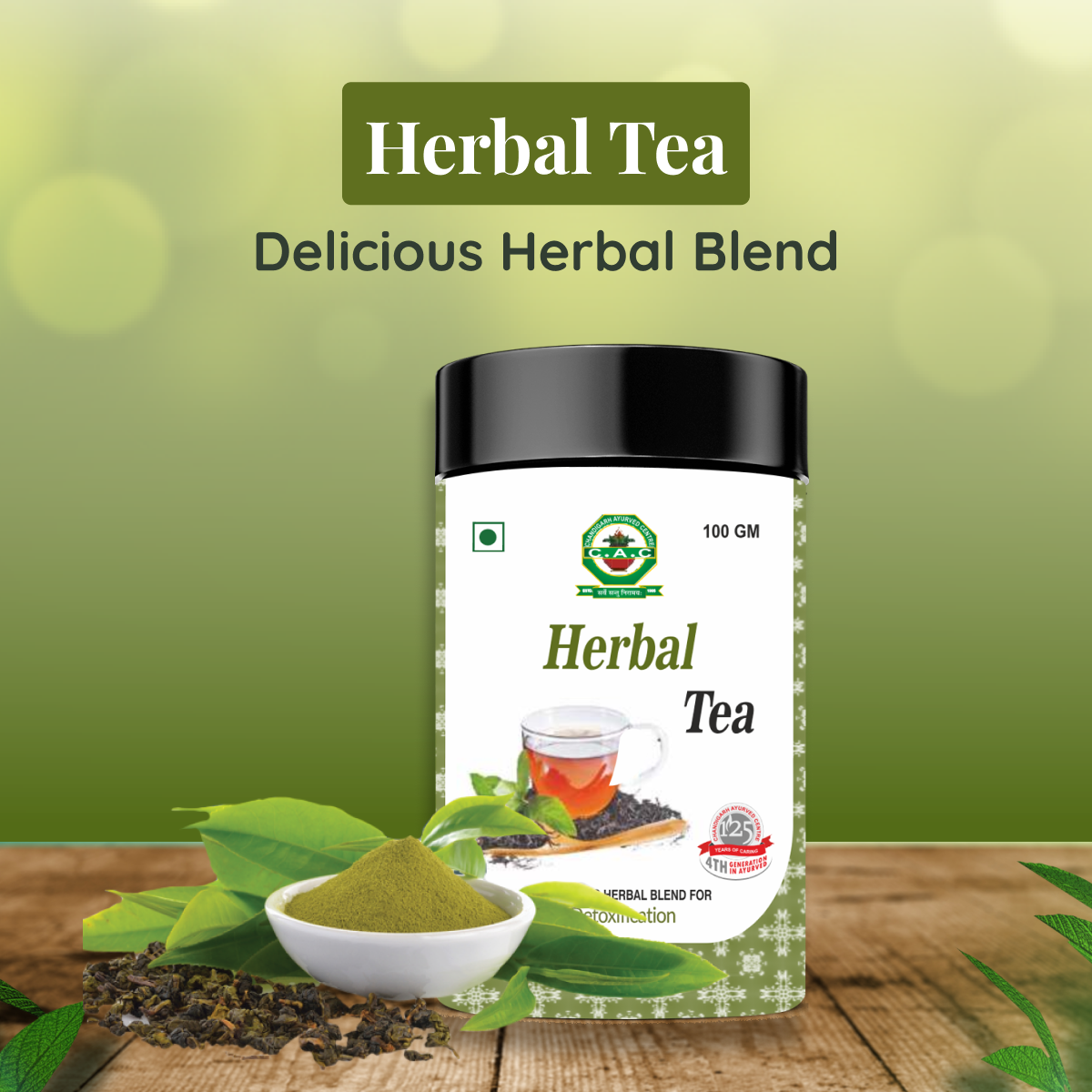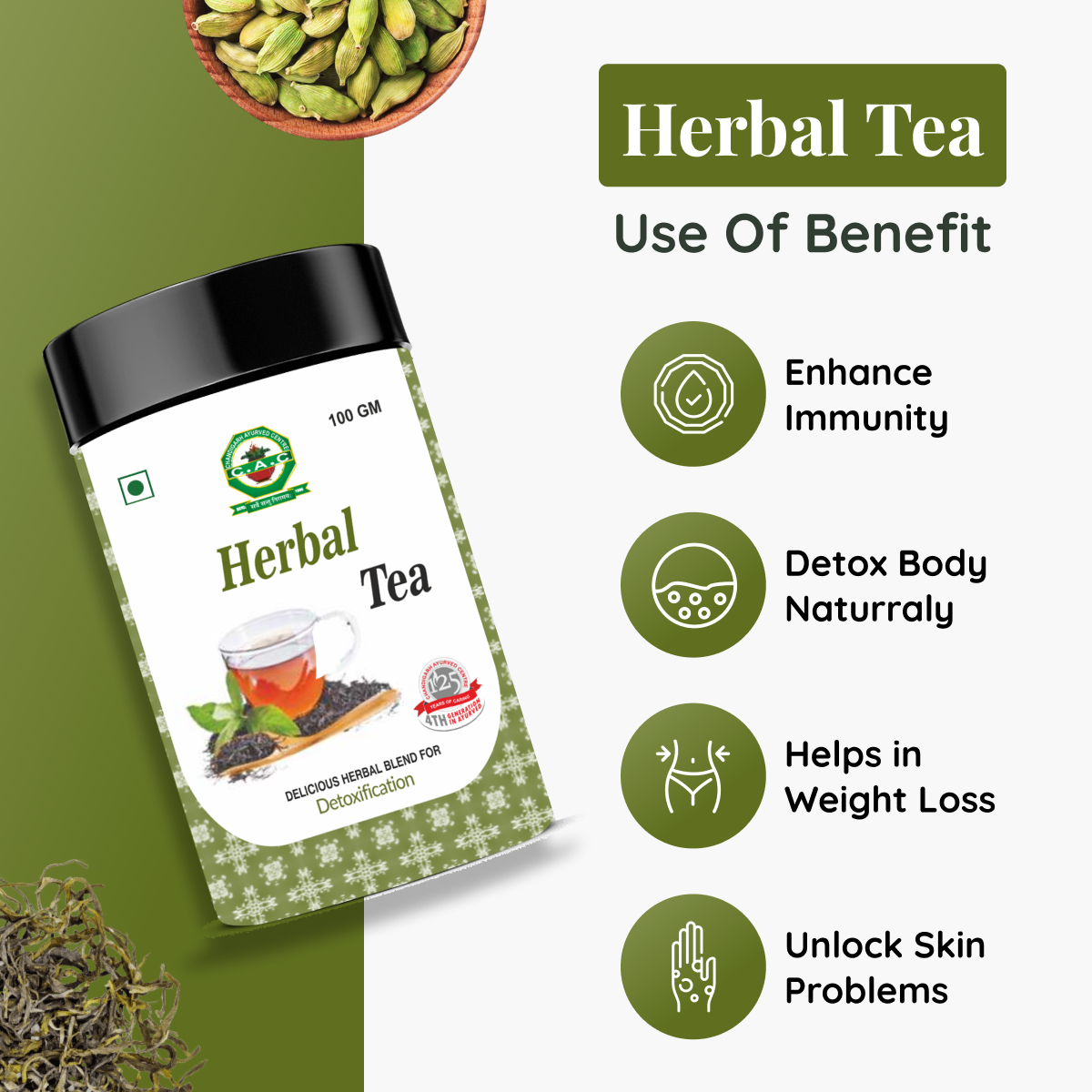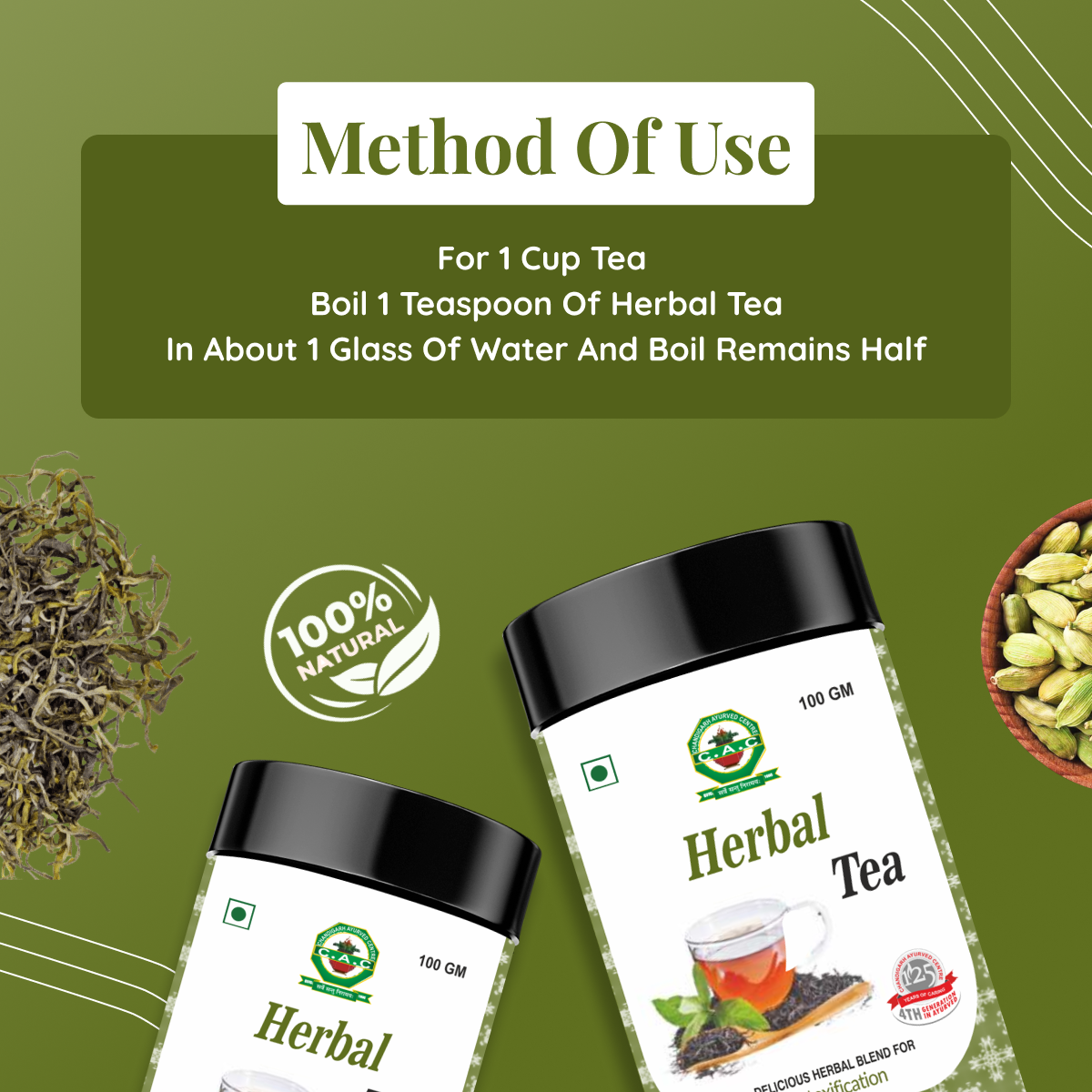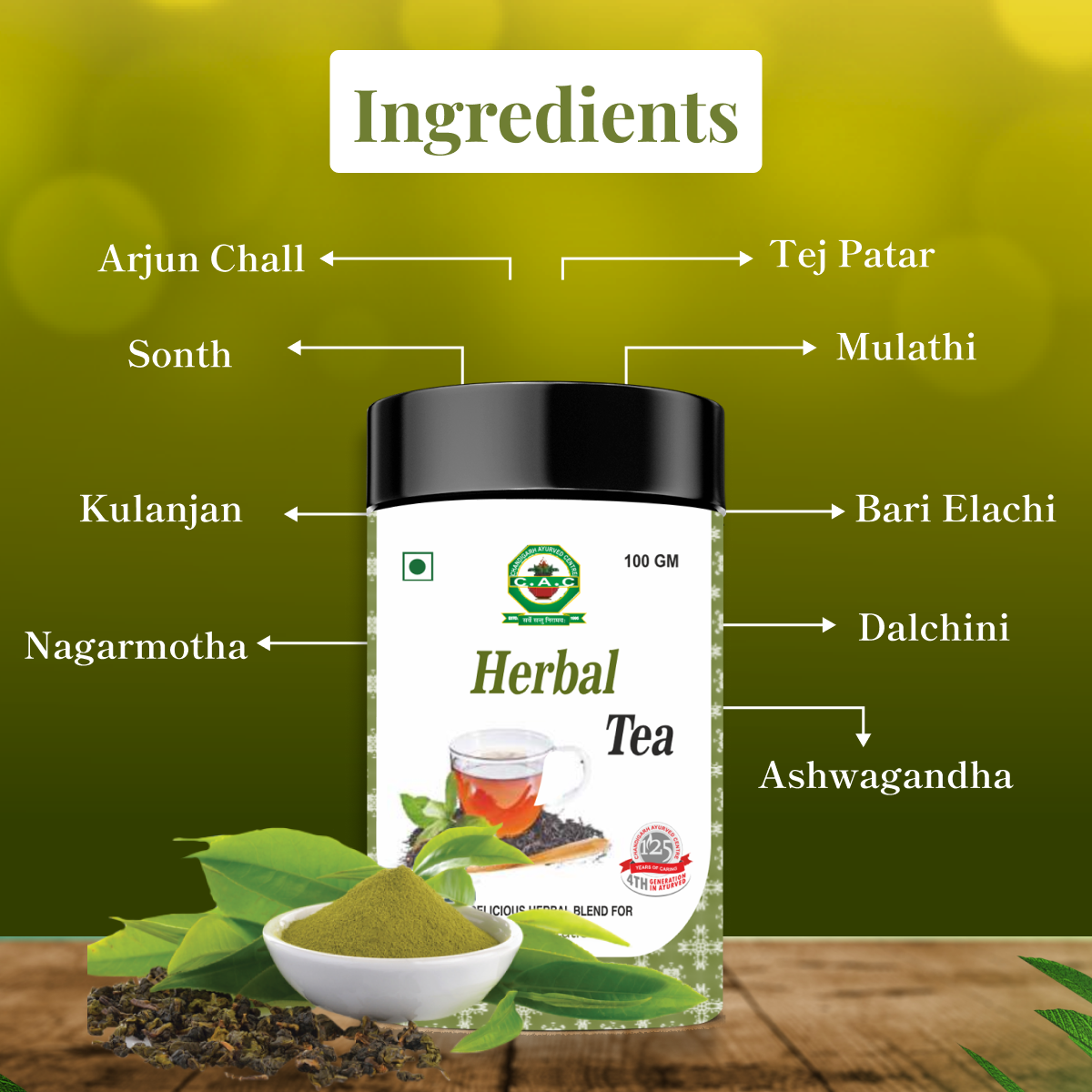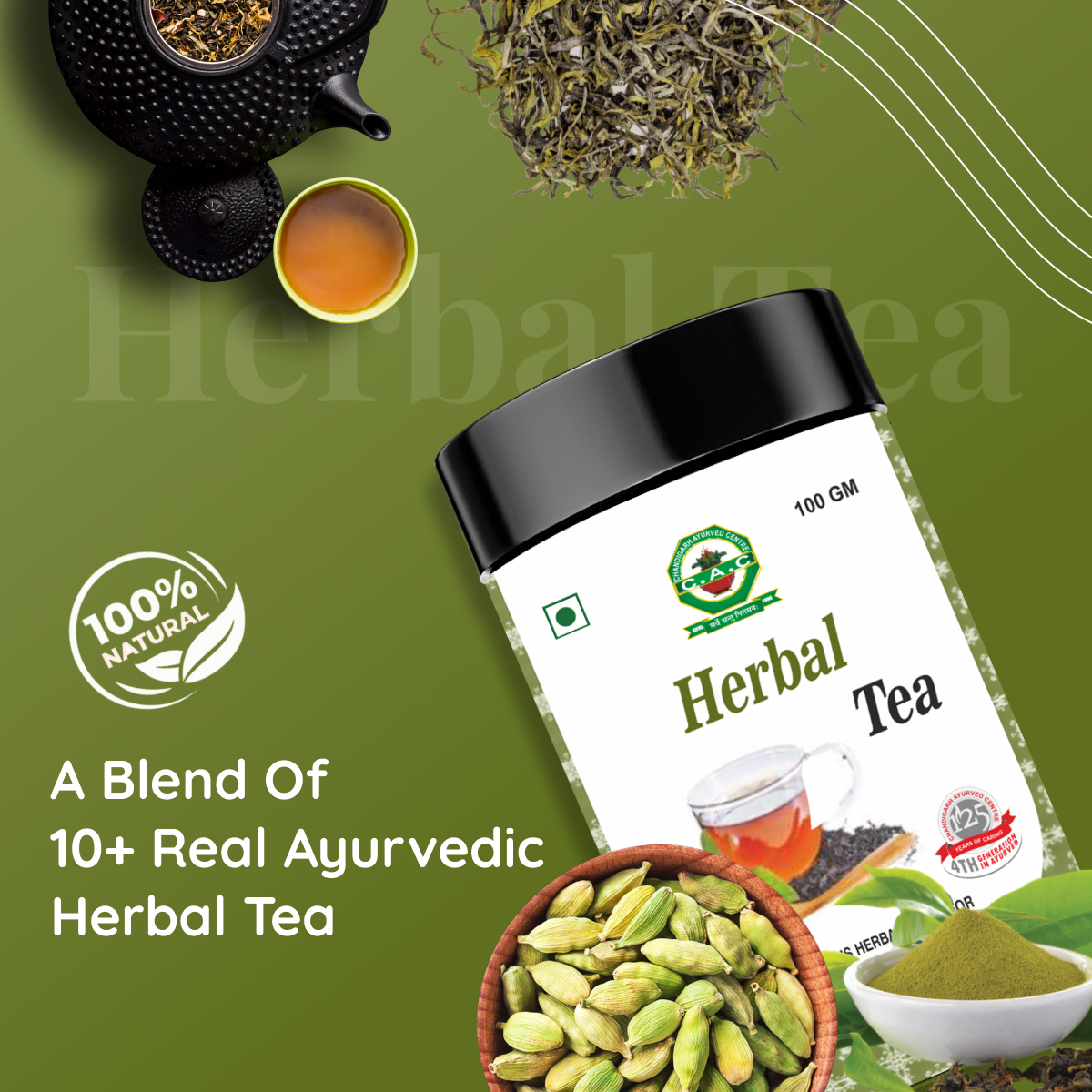 Sale price
₹ 450.00
Regular price
Tax included.
Benefits of Herbal Tea
Improves digestion
Weight loss
Sore throat
Relieves Stress and Anxiety
Immunity Booster
Lowers Cholesterol
Free Ayurvedic Consultation
100% Pure Ayurvedic
World Wide Delivery
No
Side-Effects

Guarantee safe & secure checkout
Herbal Tea
Sale price
₹ 450.00
Regular price
Product description
Shipping & Return
Description
Dr.Vaid Ji HERBAL TEA is a herbo-mineral preparation and is purely Ayurvedic formulation. CAC Herbal Tea helps in detoxification of the body, helps in Weight loss, Improves brain functions, fights cold, reduces heavy cough, and lowers cholesterol. Herbal Tea shows Anti-hypertensive, Anti-inflammatory, Antioxidant, Anti-ageing, Anti-depressant and Immune-modulator properties. Herbal tea contains pure herbal ingredients such as Arjuna (Terminalia arjuna), Tej patta (Cinnamomum tamala), Sonth (Zingiber officinale), Mulethi (Glycyrrhiza glabra), Tulsi (Ocimum tenuiflorum), Nagarmotha (Cyperus scariosus), Bharangi (Clerodendrum Serratu), Kulanjan (Alpinia galangal), Pippali (Piper longum), Brahmi (Bacopa monnieri), Saunf (Foeniculum vulgare), Dalchini (Cinnamomum zeylanicum), Badi Elaichi (Amomum subulatum), Ashwagandha (Withania somnifera), etc. These herbs prevent free radical damage and reduce the ageing of cells in the body, this makes your skin and hair look and feel younger. Drinking Herbal tea helps in reduces the breakout of Acne, provide calming effects, relieves stress and anxiety, and improves quality of sleep.
Herbs In Herbal Tea
Arjun
Badi Elaichi
Dalchini
Other ingredients: Ashwagandha, Mulathi, Nagarmotha, Sonth, Kulanjan
How To Use - Herbal Tea
1
Take
For 1 cup of herbal tea- boil 1 teaspoon of Herbal Tea in about 2 glasses of water and boil it until remaining half glass. For slimming purpose prefer this herbal tea with lemon on an empty stomach.
ORDER NOW
Purchases are shipped from our warehouse in Chandigarh (UT) by courier.
Due to COVID-19, we cannot commit on delivery timelines. We do request you to bear with us in the case of slight delays. Please refer to our Covid Safety Measures Policy for more details. As per safety protocols while we are currently accepting online orders to ship within India and worldwide, due to changing nature of the situation, we reserve the right to pause deliveries to any country at any time if so warranted.
Order Deliveries Will Be Made Between
10:00 AM – 6:00 PM Monday – Saturday. Excluding public holidays.
Goods will need to be signed for upon delivery. If you cannot be there to sign for your delivery please suggest an alternative i.e. a family member, colleague, neighbor, etc. However, the brand takes no responsibility for goods signed by an alternative person.
Certain courier partners may request an OTP to complete delivery. This will need to be provided for completion of delivery. OTP will be sent to the number inputted at time of placing the order.
VaidJi is not responsible for damage after delivery.
For all claims for shortages or damages must be reported to customer service within 48 hours of the day of delivery.
Shipping and handling rates may vary based on product, packaging, size, volume, type and other considerations. The shipping and handling charges are given at the time of check out and consumers will know about this before making payments.
We ship your ordered products through Indian Post, the normal service. In India, it takes around 3 to 5 days to deliver the package. Outside India, it takes around 7 to 10 days.
The brand will only be responsible for compliance with export and customs laws of the country where the products are being shipped from. The consignee must ensure compliance with import and customs laws of the country they are having the products shipped to.
The number of products ordered by the customer may exceed the total number permissible by their country for clearance upon arrival. In this regard, the customer must consider these limits placed by their country while ordering products from the brand.
The brand will fulfill all international orders from its end. However, the consignee will be responsible for the entry of the products to the country they have chosen to have the products shipped to and for compliance with all applicable laws pertaining to the same, including without limitation, payment of Customs Duty Charge / Import Duty / VAT / Other applicable government taxes/Convenience charges, etc. on arrival in the destination country.
In the event and for any reason whatsoever, an order does not get cleared by customs in the destination country, the brand may, at its sole and absolute discretion, consider a refund of the customer's order amount after deducting the shipping costs, return duty charges and any other charges incurred by the brand while processing the order and having the products shipped to the customer.
Please confirm that your order and the products therein are in compliance with and the delivery permissible under the laws of your country.
Customer Reviews
It's a good tea ☕
Delivery was fast and packaging was perfect. And when we open the box oh man the Tea box looks so premium. Full marks to the designer. Can be easily gifted to friends and relatives.
The tea colour, aroma and taste is just perfect. Perfect fit for a cup of tea after finishing the office or late afternoon sip with someone. Calms down the mind with the aroma.
Amazing taste tea
I was using this tea for last two years..it was one of my favourite but my last order was in good condition they send me new premium good packaging.
Affordable price in quality
Ayurvedic herbal tea is affordable as it contains all the things that cost a lot if bought separately. A perfect guard for health in these terrible days, It gives a refreshing and good smell that I love it.
Amazing 😊
I like to consider myself a tea lover and have tried many new tea companies. I must say that this is one of the very good ones.
I ordered herbal tea and I really liked the complex yet flavorful blends. Most teas available have simple tea with a little bit of other few ingredients and are called by fancy flavour names. But these are intense, high quality blends.
Very good taste. Dr vaidji's product are always good. I do not like any other brand.