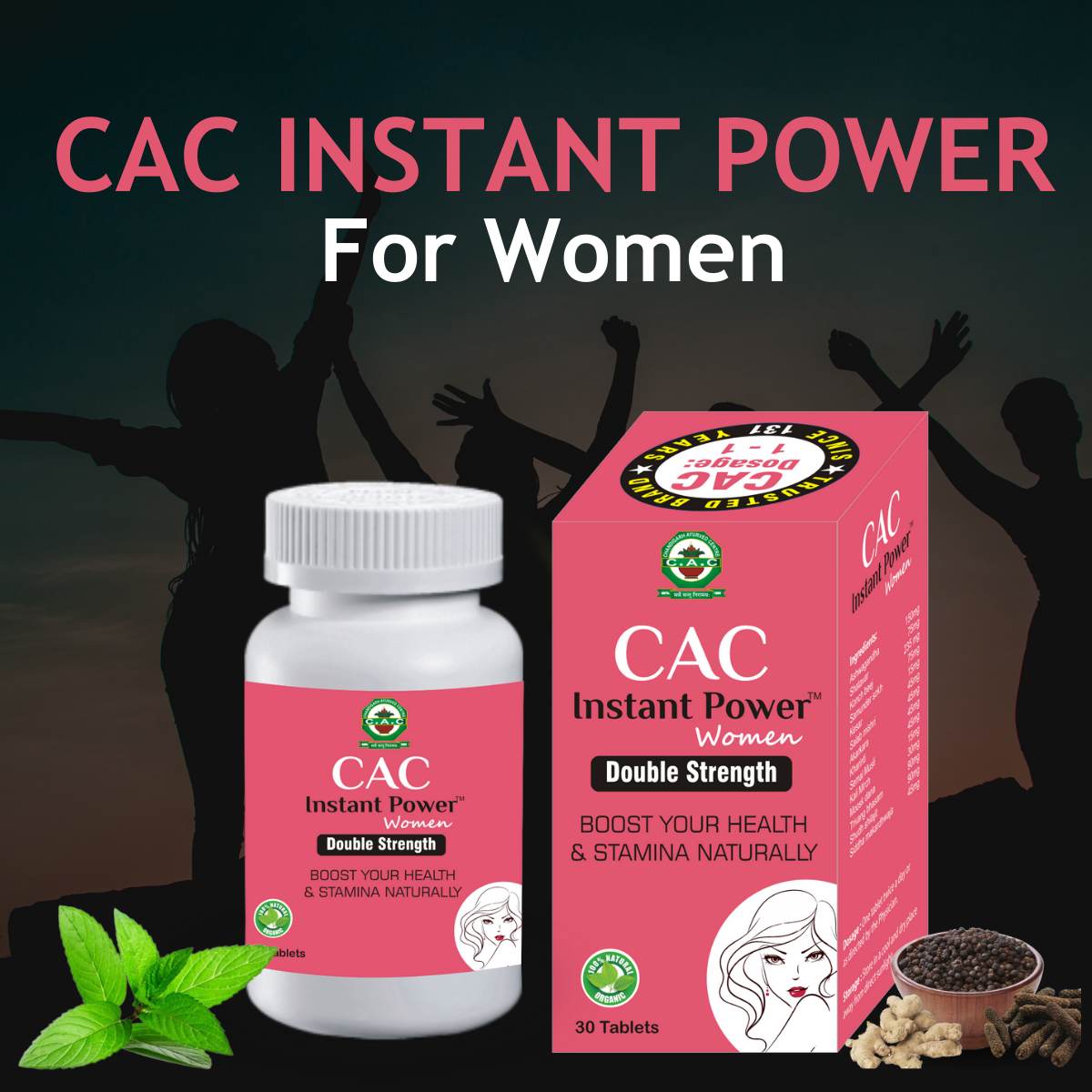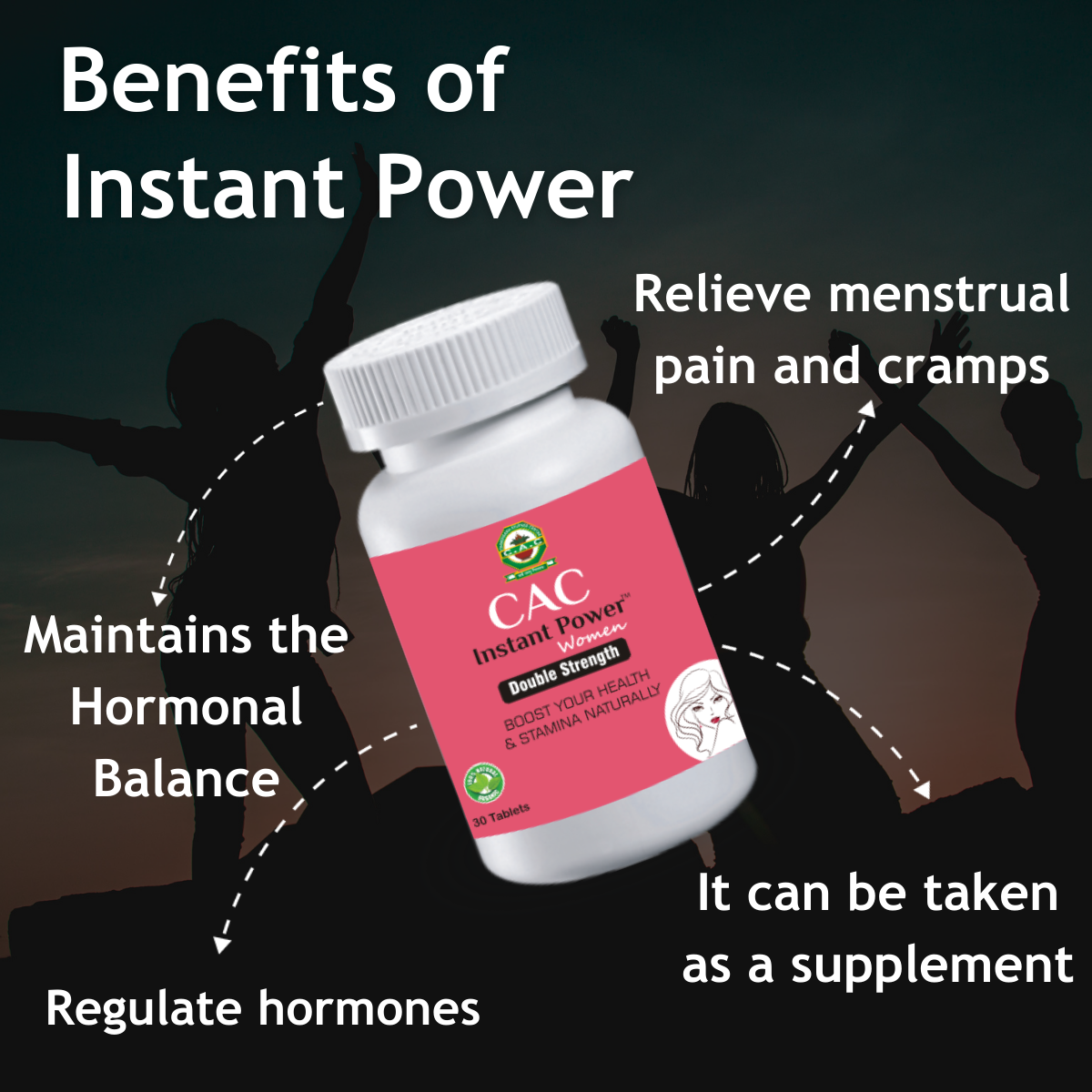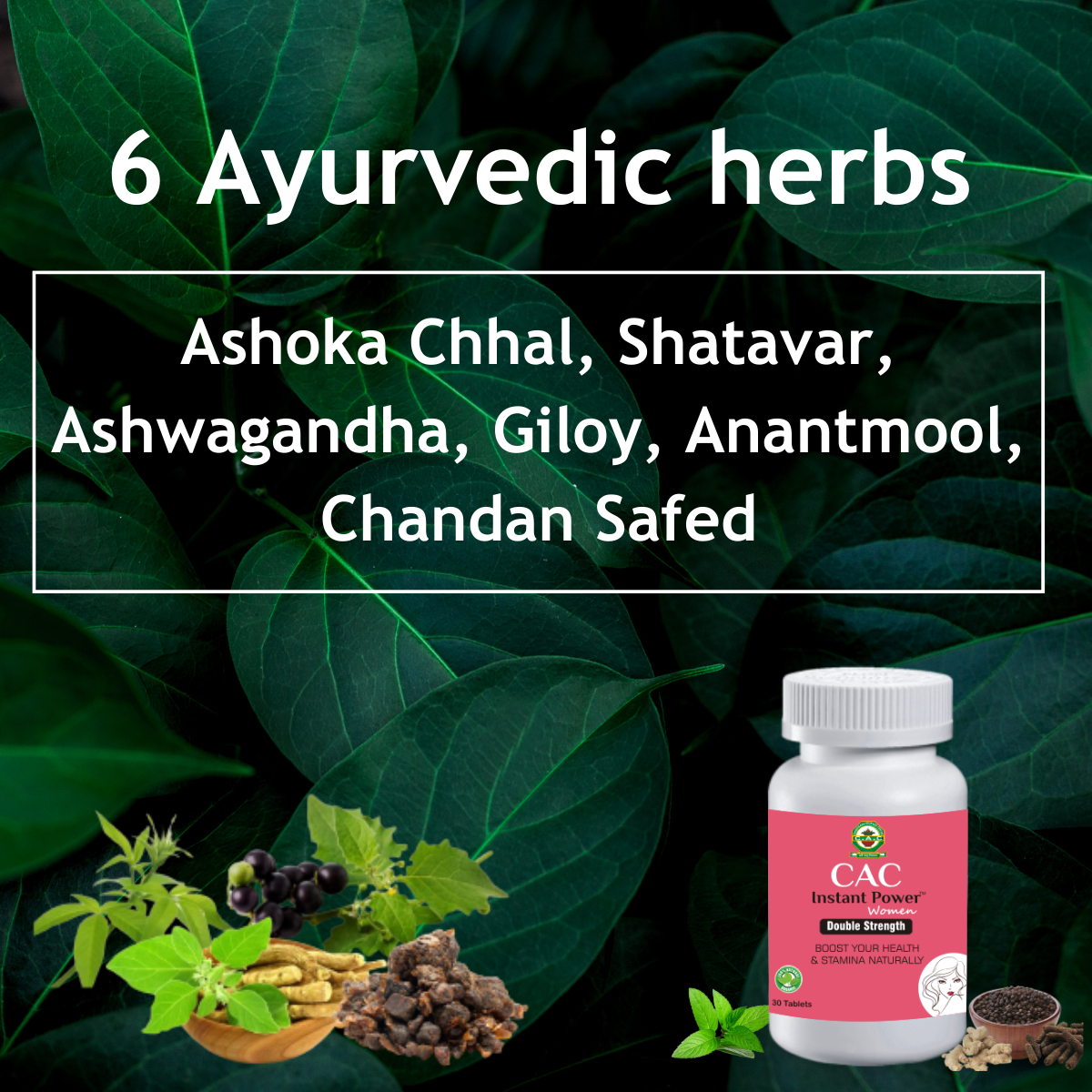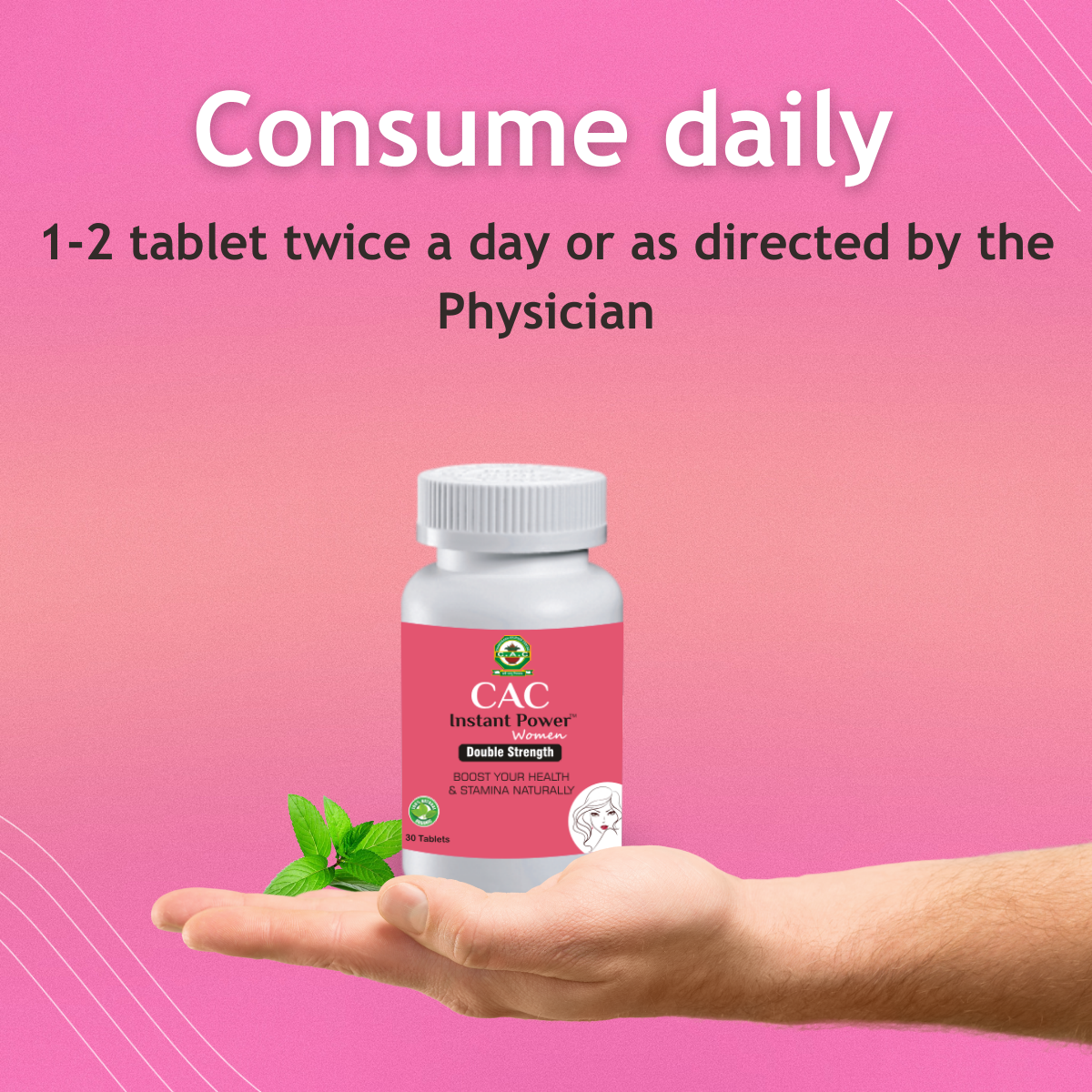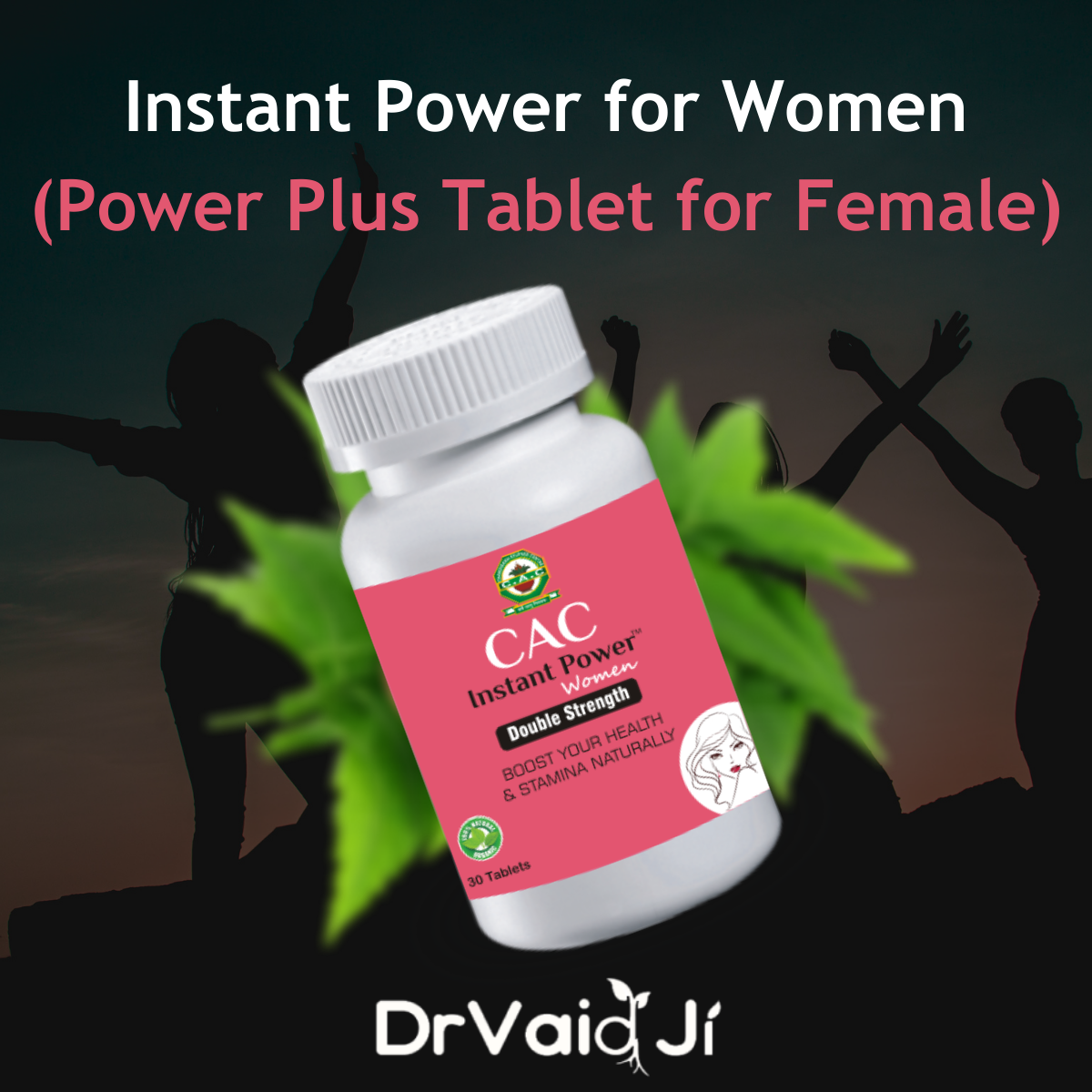 Sale price
₹ 1,500.00
Regular price
Tax included.
Benefits of Instant Power for Women Tablet
Relieve menstrual pain and cramps
Maintains the hormonal balance
It regulates the female menstrual cycle
Helps to relieve stress and anxiety
Used in leucorrhea is excessive discharge from the vagina.
Dosage– 1 Tablet morning and evening or as directed by physicians.
Free Ayurvedic Consultation
100% Pure Ayurvedic
World Wide Delivery
No
Side-Effects

Guarantee safe & secure checkout
Product description
Shipping & Return
Description
Even if we try our best to have balanced meals often our daily diets are not enough to provide us with all the nutrients we need for the healthy functioning of our body. A good supplement becomes essential here to balance your daily nutrition. However, not every multivitamin or health supplement is suitable for women so, here is a natural ayurvedic alternative specifically formulated for improving female health and vitality. Dr.Vaid Ji Instant Woman Power Tablet is formulated for 100% of women's daily requirement of all essential vitamins and herbal extracts. This comprehensive product comprises of the best quality herbs like Ashoka, Shatavari, anantmool, etc. The blend of these vital products makes it potent enough to keep you active and energized.
It is a powerful uterine tonic which helps to manage various gynecological and menstrual problems in women such as heavy, irregular and painful periods.
It has anti-anxiety effects, acts as a hormone balancer and a general tonic to uplift female health.
It improves sleep quality and reduces the frequency of insomnia in women as it works by regulating the production of stress hormones and promoting relaxation.
It stops the growth of acne-causing bacteria and reduces skin inflammation caused by acne.
Herbs In Instant Power Women Tablet
Shatavari
Ashoka Herb
Anantmool
Purchases are shipped from our warehouse in Chandigarh (UT) by courier.
Due to COVID-19, we cannot commit on delivery timelines. We do request you to bear with us in the case of slight delays. Please refer to our Covid Safety Measures Policy for more details. As per safety protocols while we are currently accepting online orders to ship within India and worldwide, due to changing nature of the situation, we reserve the right to pause deliveries to any country at any time if so warranted.
Order Deliveries Will Be Made Between
10:00 AM – 6:00 PM Monday – Saturday. Excluding public holidays.
Goods will need to be signed for upon delivery. If you cannot be there to sign for your delivery please suggest an alternative i.e. a family member, colleague, neighbor, etc. However, the brand takes no responsibility for goods signed by an alternative person.
Certain courier partners may request an OTP to complete delivery. This will need to be provided for completion of delivery. OTP will be sent to the number inputted at time of placing the order.
VaidJi is not responsible for damage after delivery.
For all claims for shortages or damages must be reported to customer service within 48 hours of the day of delivery.
Shipping and handling rates may vary based on product, packaging, size, volume, type and other considerations. The shipping and handling charges are given at the time of check out and consumers will know about this before making payments.
We ship your ordered products through Indian Post, the normal service. In India, it takes around 3 to 5 days to deliver the package. Outside India, it takes around 7 to 10 days.
The brand will only be responsible for compliance with export and customs laws of the country where the products are being shipped from. The consignee must ensure compliance with import and customs laws of the country they are having the products shipped to.
The number of products ordered by the customer may exceed the total number permissible by their country for clearance upon arrival. In this regard, the customer must consider these limits placed by their country while ordering products from the brand.
The brand will fulfill all international orders from its end. However, the consignee will be responsible for the entry of the products to the country they have chosen to have the products shipped to and for compliance with all applicable laws pertaining to the same, including without limitation, payment of Customs Duty Charge / Import Duty / VAT / Other applicable government taxes/Convenience charges, etc. on arrival in the destination country.
In the event and for any reason whatsoever, an order does not get cleared by customs in the destination country, the brand may, at its sole and absolute discretion, consider a refund of the customer's order amount after deducting the shipping costs, return duty charges and any other charges incurred by the brand while processing the order and having the products shipped to the customer.
Please confirm that your order and the products therein are in compliance with and the delivery permissible under the laws of your country.