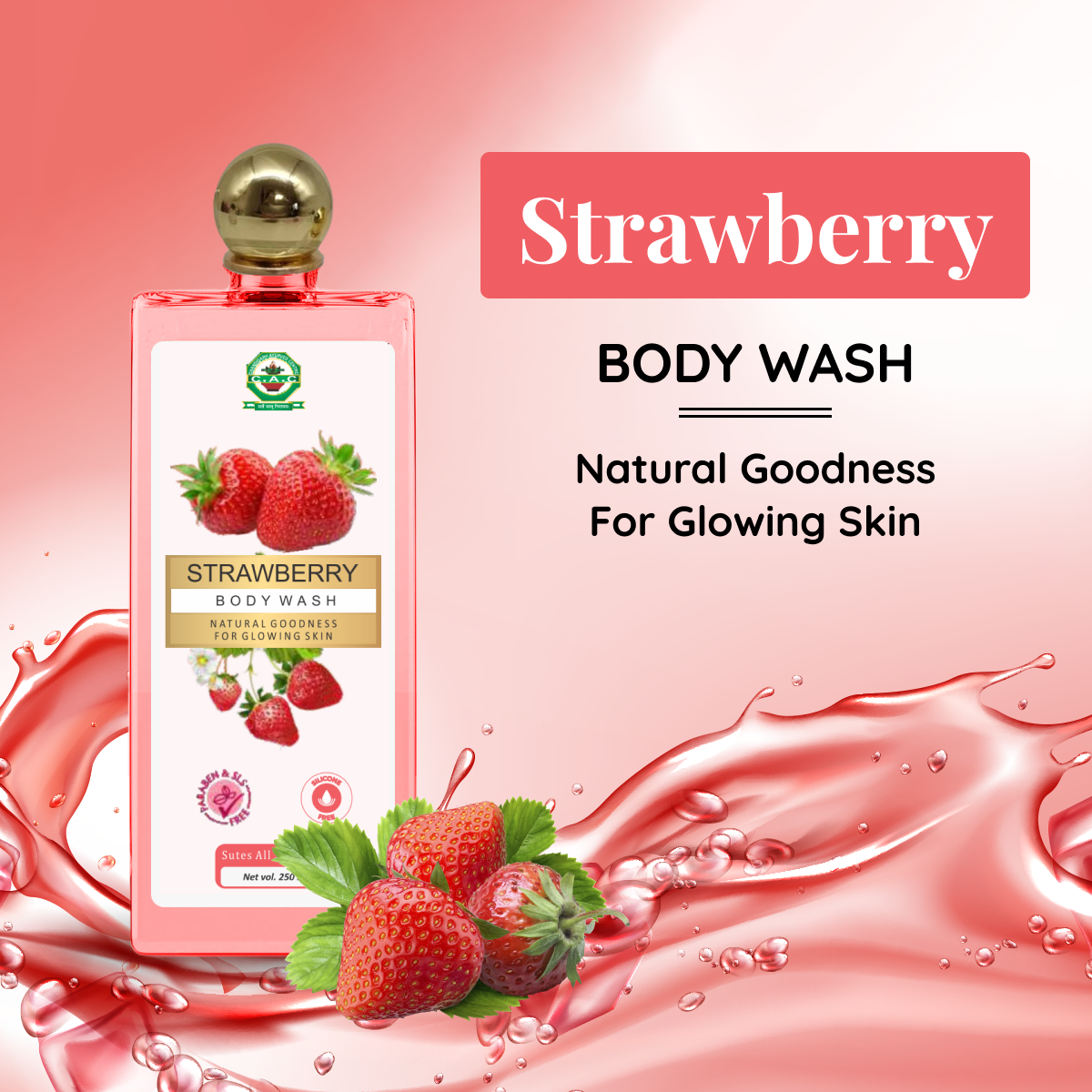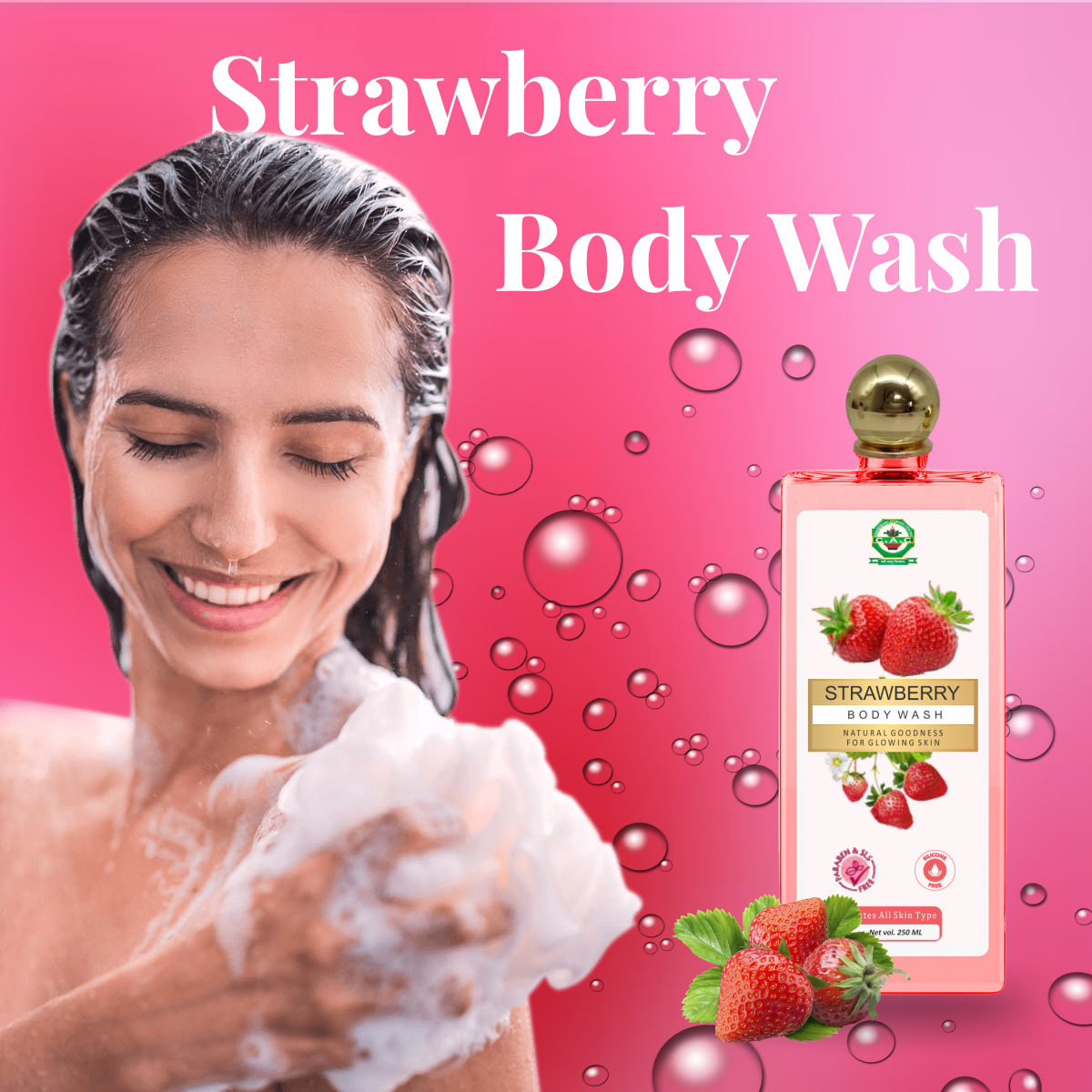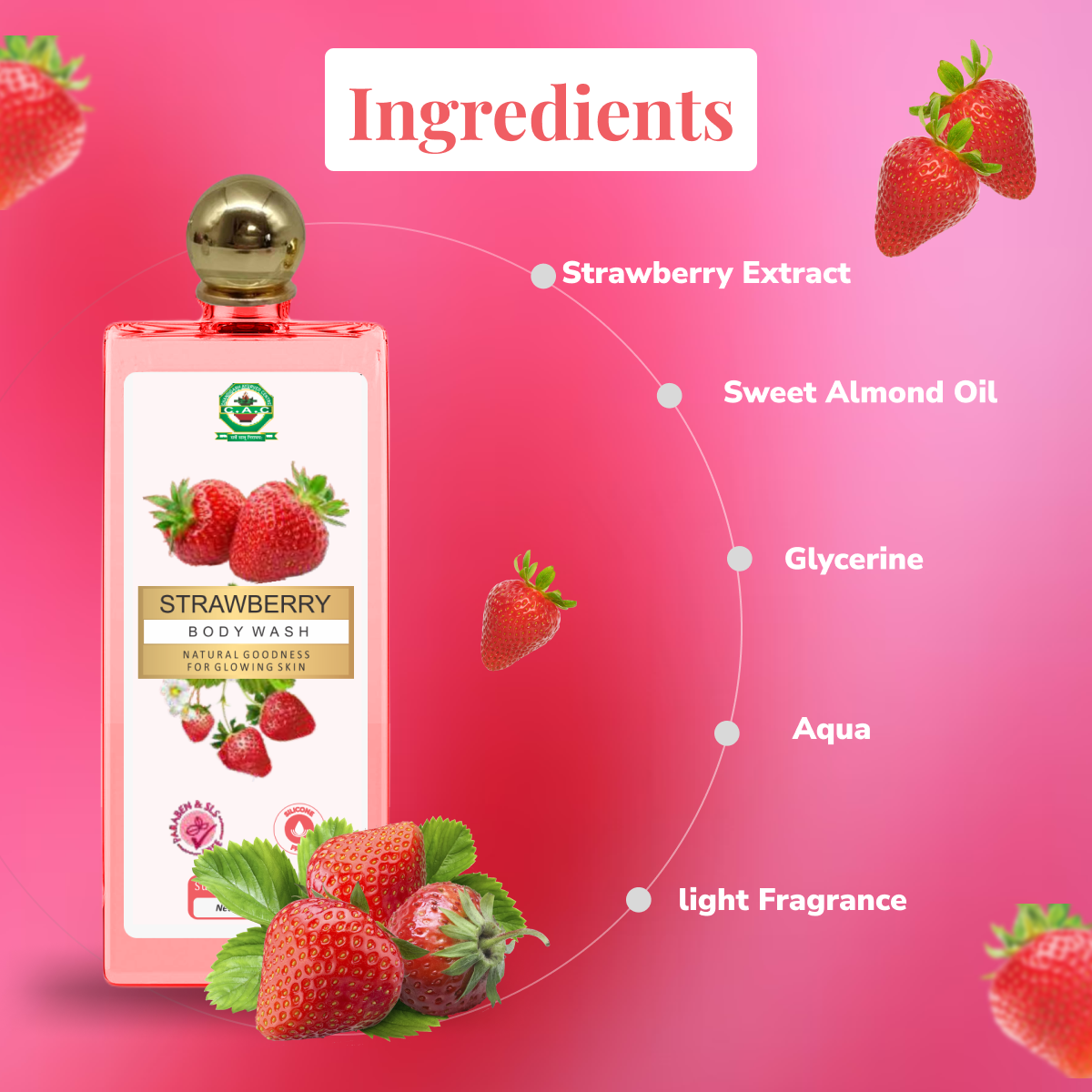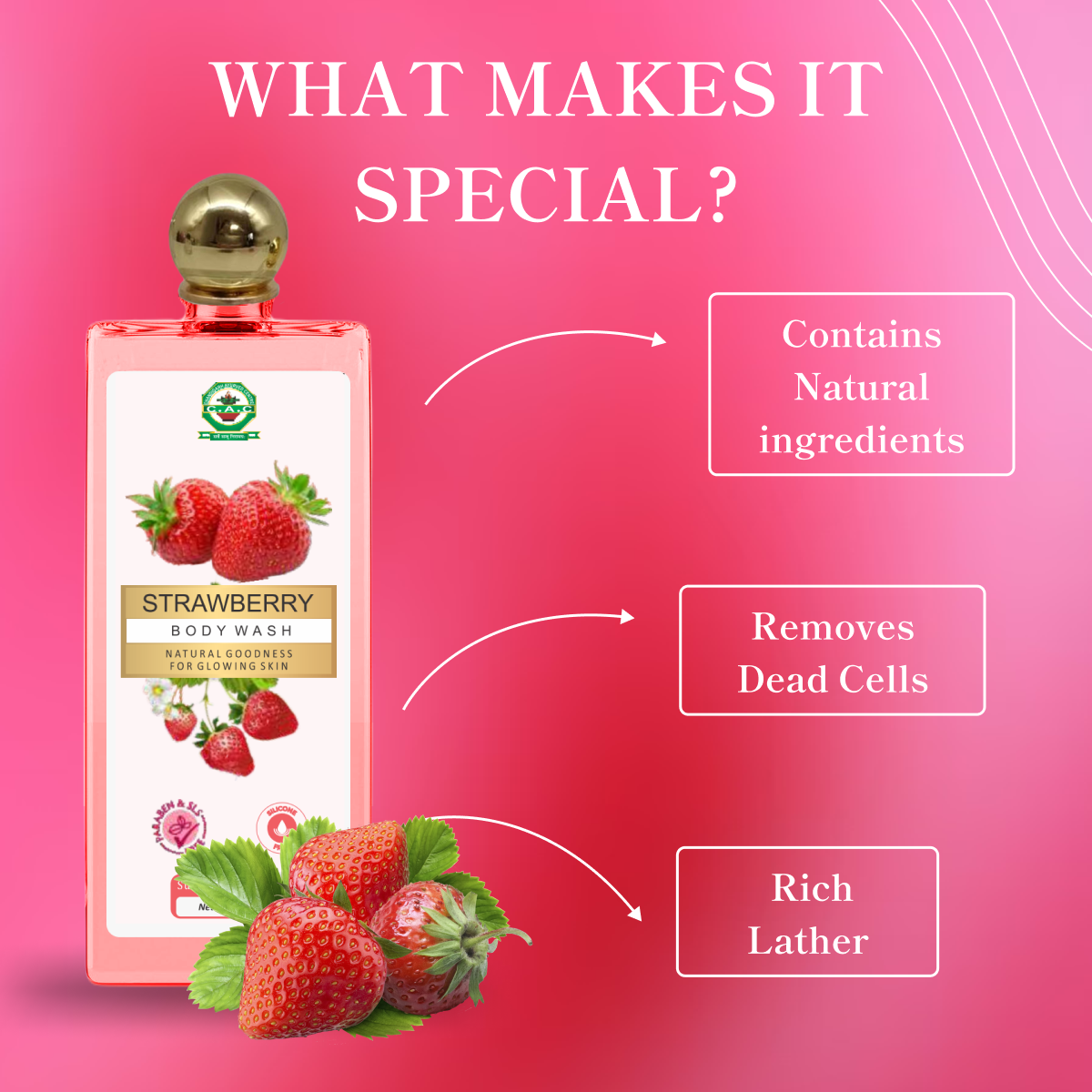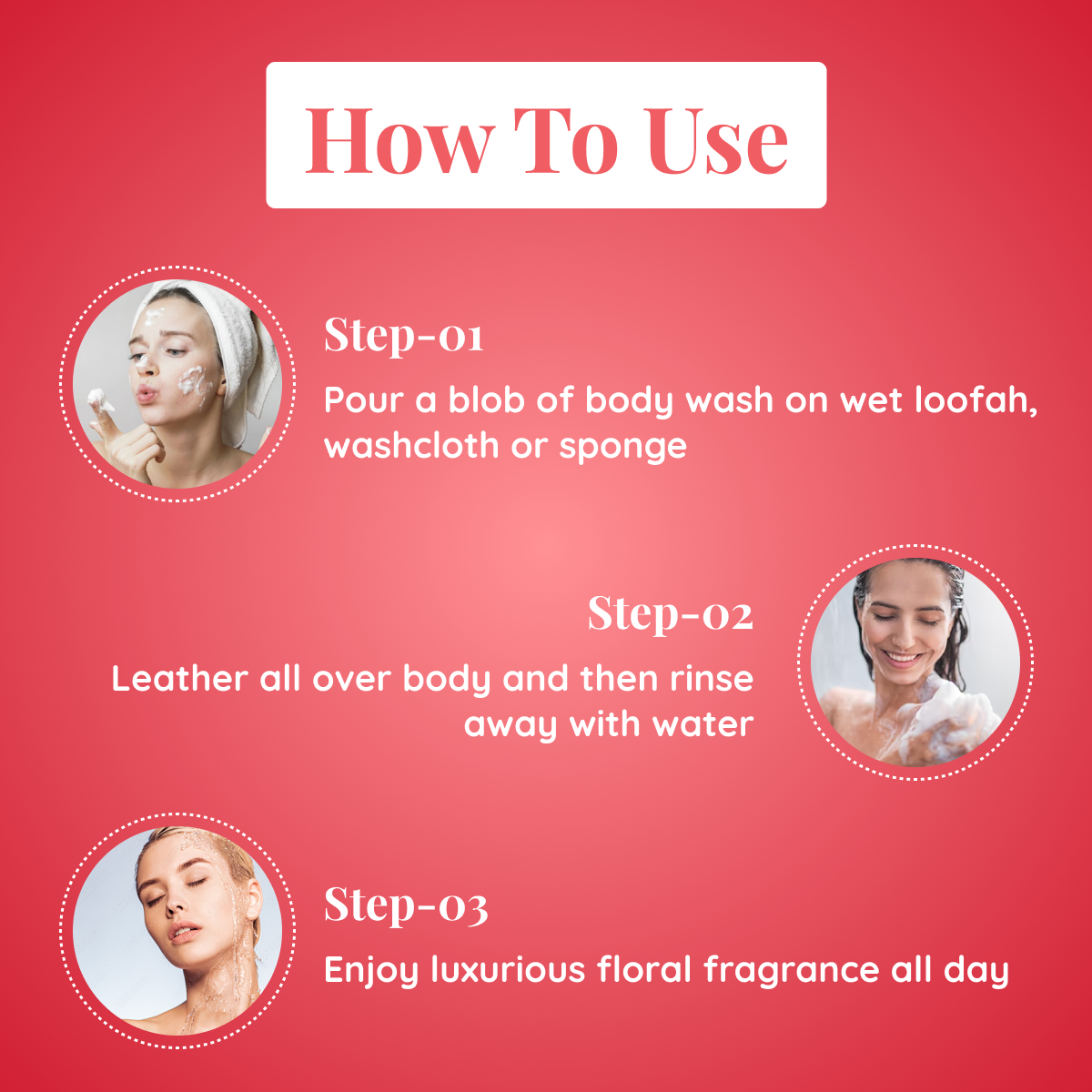 Sale price
₹ 250.00
Regular price
Tax included.
Benefits of Lavender Body Wash
Flawless skin
Removes dark spots
Naturally Moisturizes the skin
Deep Cleansing of Skin
Natural Glow of Skin
Free Ayurvedic Consultation
100% Pure Ayurvedic
World Wide Delivery
No
Side-Effects

Guarantee safe & secure checkout
Strawberry Body Wash
Sale price
₹ 250.00
Regular price
Product description
Shipping & Return
Description
Dr.Vaid Ji Strawberry Body Wash is an aromatic blend of herbal ingredients with natural moisturizers that helps in cleansing the skin deeply. It cleanses deeply by getting rid of all the dirt, dust and sweat without aggravating any skin condition, making you ready for the day ahead. This body wash is made without synthetic preservatives like triclosan, sulfate or paraben.
Strawberry extract is a natural source of salicylic acid, which fights acne by sloughing away dead skin cells and purifying clogged pores, and eliminating excess oil and other impurities.
It is also high in antioxidant vitamin C, which has been shown to combat free-radical damage.
The body wash is excellent at purifying your skin of the build-up of toxins and helps in unclogging your pores.
It helps your skin retain its moisture whilst simultaneously blocking dirty microbes from entering your skins pores.
Direction of use
Step-1
Wet body. Pour a blob of body wash on wet loofah, washcloth or sponge.
Step-2
Lather all over body and then rinse away with water, Avoid contact with eyes. If contact occurs rinse throughly with plenty of water.
Step-3
Enjoy luxurious floral fregnance all day.
ORDER NOW
Purchases are shipped from our warehouse in Chandigarh (UT) by courier.
Due to COVID-19, we cannot commit on delivery timelines. We do request you to bear with us in the case of slight delays. Please refer to our Covid Safety Measures Policy for more details. As per safety protocols while we are currently accepting online orders to ship within India and worldwide, due to changing nature of the situation, we reserve the right to pause deliveries to any country at any time if so warranted.
Order Deliveries Will Be Made Between
10:00 AM – 6:00 PM Monday – Saturday. Excluding public holidays.
Goods will need to be signed for upon delivery. If you cannot be there to sign for your delivery please suggest an alternative i.e. a family member, colleague, neighbor, etc. However, the brand takes no responsibility for goods signed by an alternative person.
Certain courier partners may request an OTP to complete delivery. This will need to be provided for completion of delivery. OTP will be sent to the number inputted at time of placing the order.
VaidJi is not responsible for damage after delivery.
For all claims for shortages or damages must be reported to customer service within 48 hours of the day of delivery.
Shipping and handling rates may vary based on product, packaging, size, volume, type and other considerations. The shipping and handling charges are given at the time of check out and consumers will know about this before making payments.
We ship your ordered products through Indian Post, the normal service. In India, it takes around 3 to 5 days to deliver the package. Outside India, it takes around 7 to 10 days.
The brand will only be responsible for compliance with export and customs laws of the country where the products are being shipped from. The consignee must ensure compliance with import and customs laws of the country they are having the products shipped to.
The number of products ordered by the customer may exceed the total number permissible by their country for clearance upon arrival. In this regard, the customer must consider these limits placed by their country while ordering products from the brand.
The brand will fulfill all international orders from its end. However, the consignee will be responsible for the entry of the products to the country they have chosen to have the products shipped to and for compliance with all applicable laws pertaining to the same, including without limitation, payment of Customs Duty Charge / Import Duty / VAT / Other applicable government taxes/Convenience charges, etc. on arrival in the destination country.
In the event and for any reason whatsoever, an order does not get cleared by customs in the destination country, the brand may, at its sole and absolute discretion, consider a refund of the customer's order amount after deducting the shipping costs, return duty charges and any other charges incurred by the brand while processing the order and having the products shipped to the customer.
Please confirm that your order and the products therein are in compliance with and the delivery permissible under the laws of your country.
Customer Reviews
Good product
Strawberry body wash bahut hi achcha product hai mai 3 month se use kar rahi hu meri skin achi ho gyi hai ⭐⭐⭐⭐⭐
wonderful
This is my second bottle And it's amazing for exfoliating the body. It does shows results but after one bottle must buy...................
superb
love to use this product .!!!!!!!!!!!!!!!!!!!
refreshing wash
One of the best body wash ,..............!!!!!!