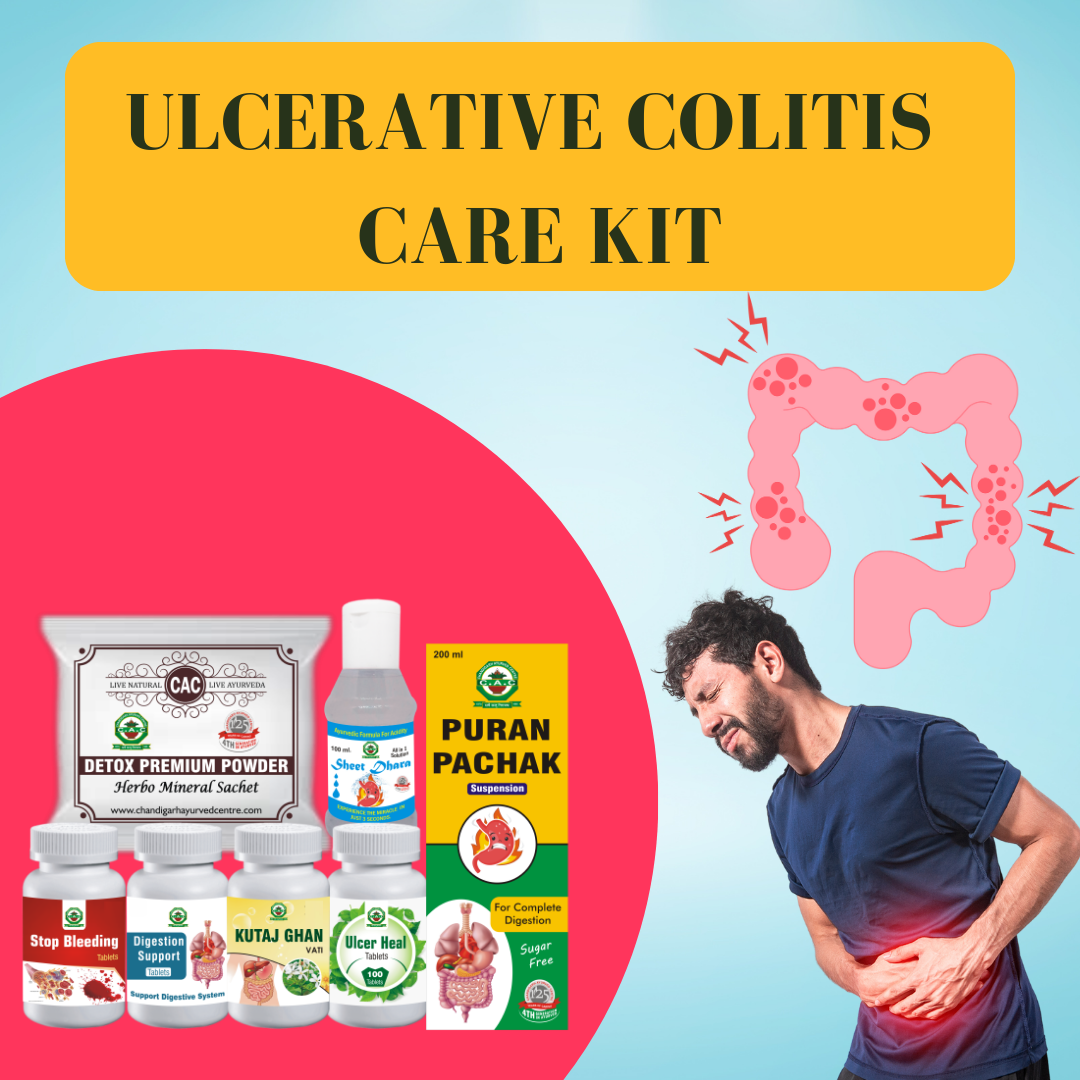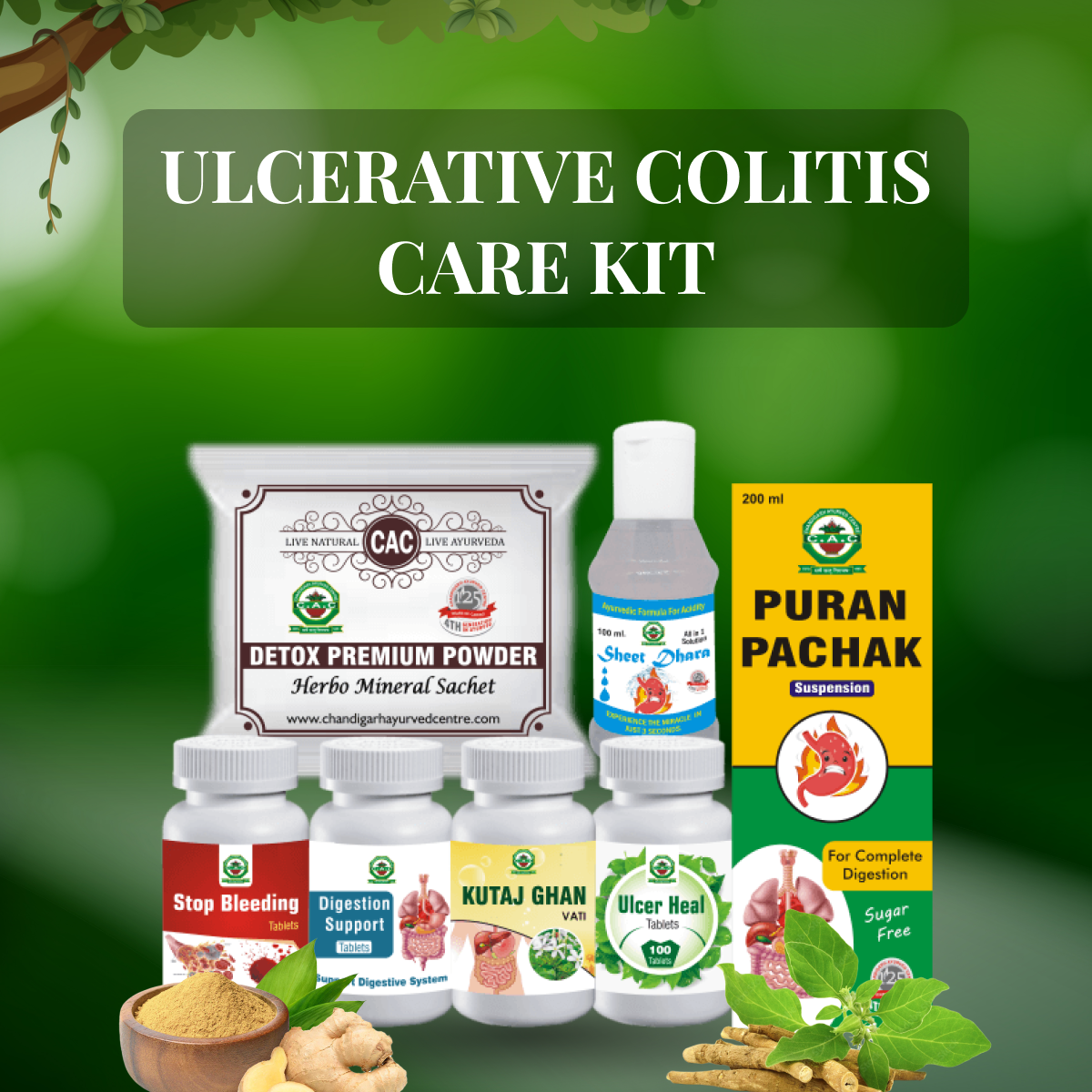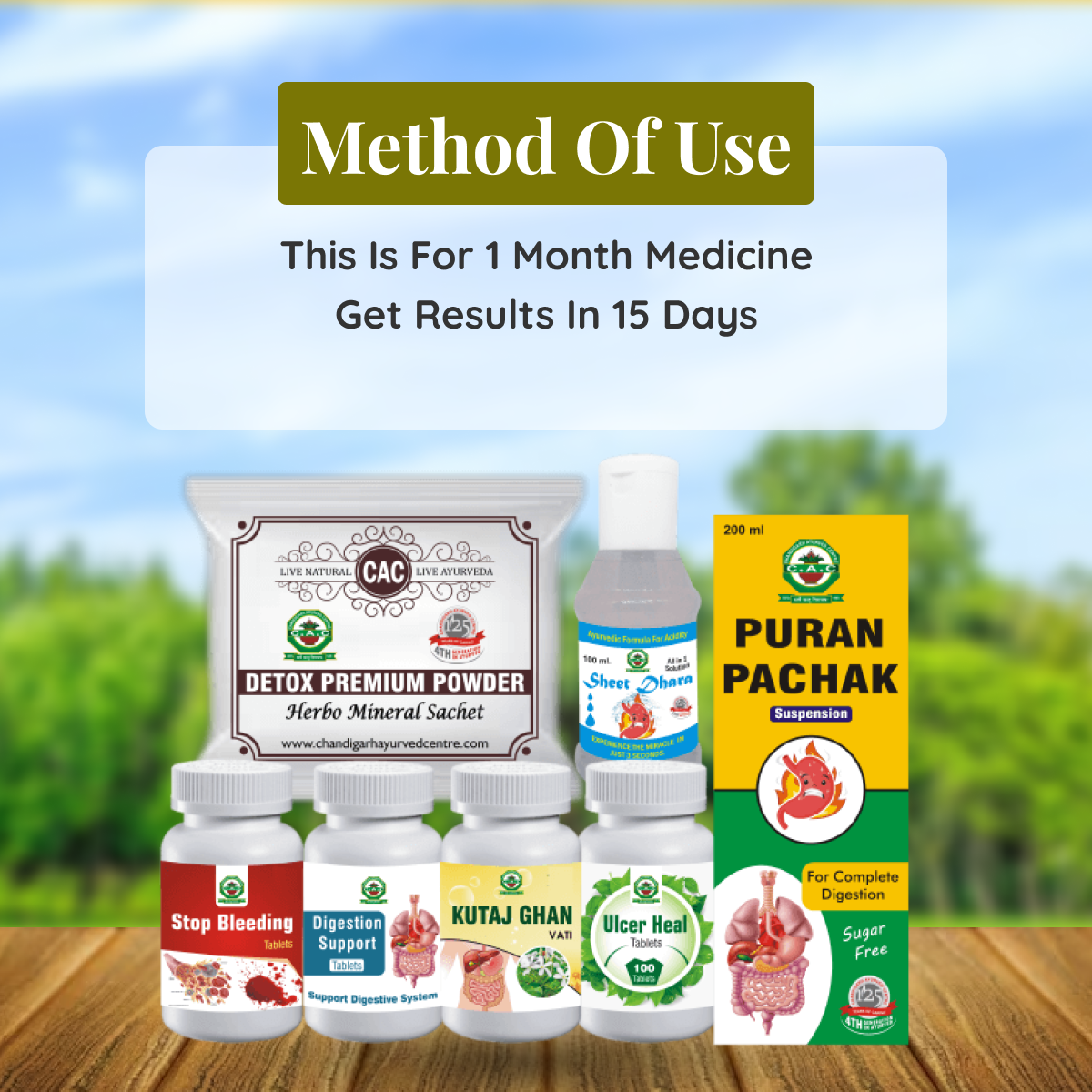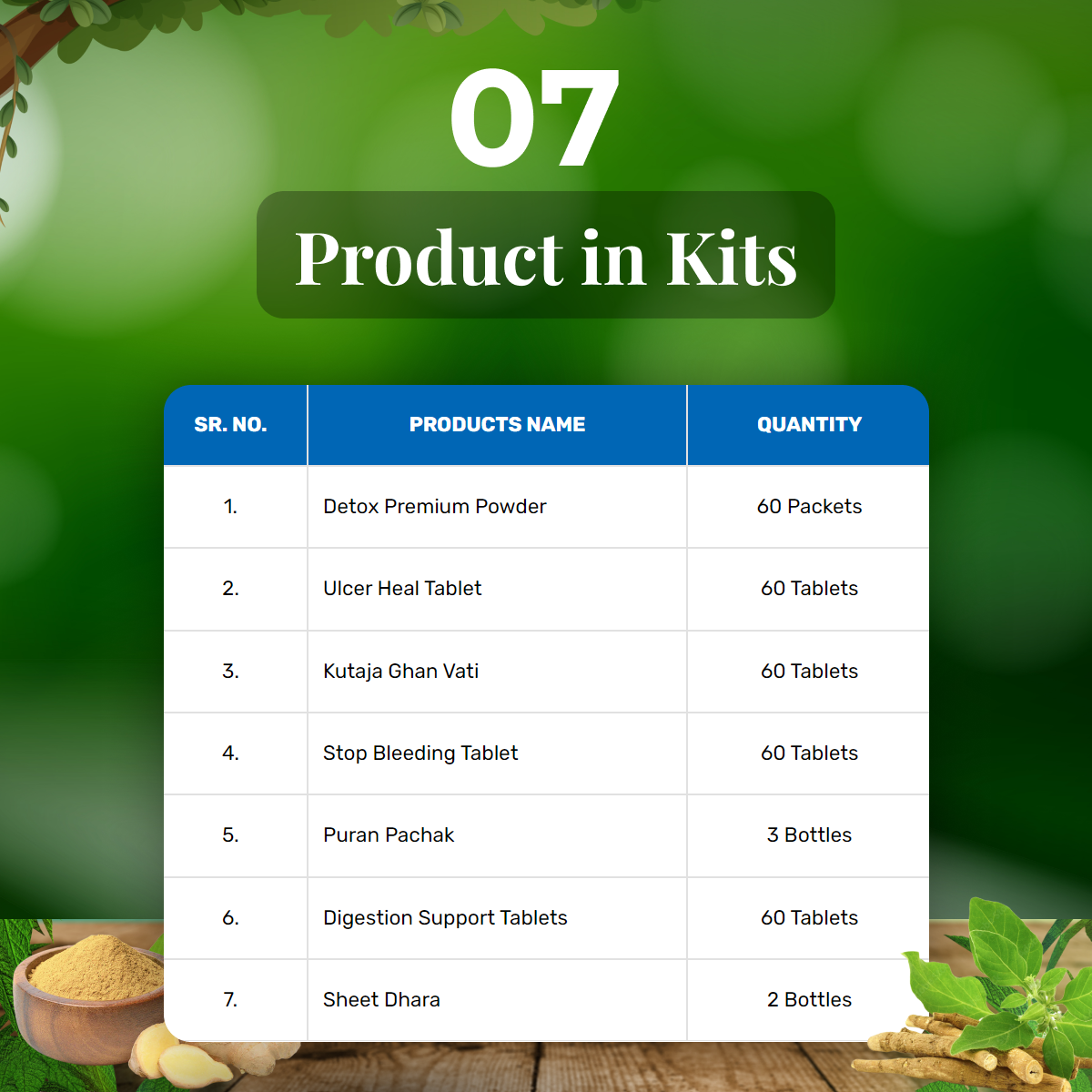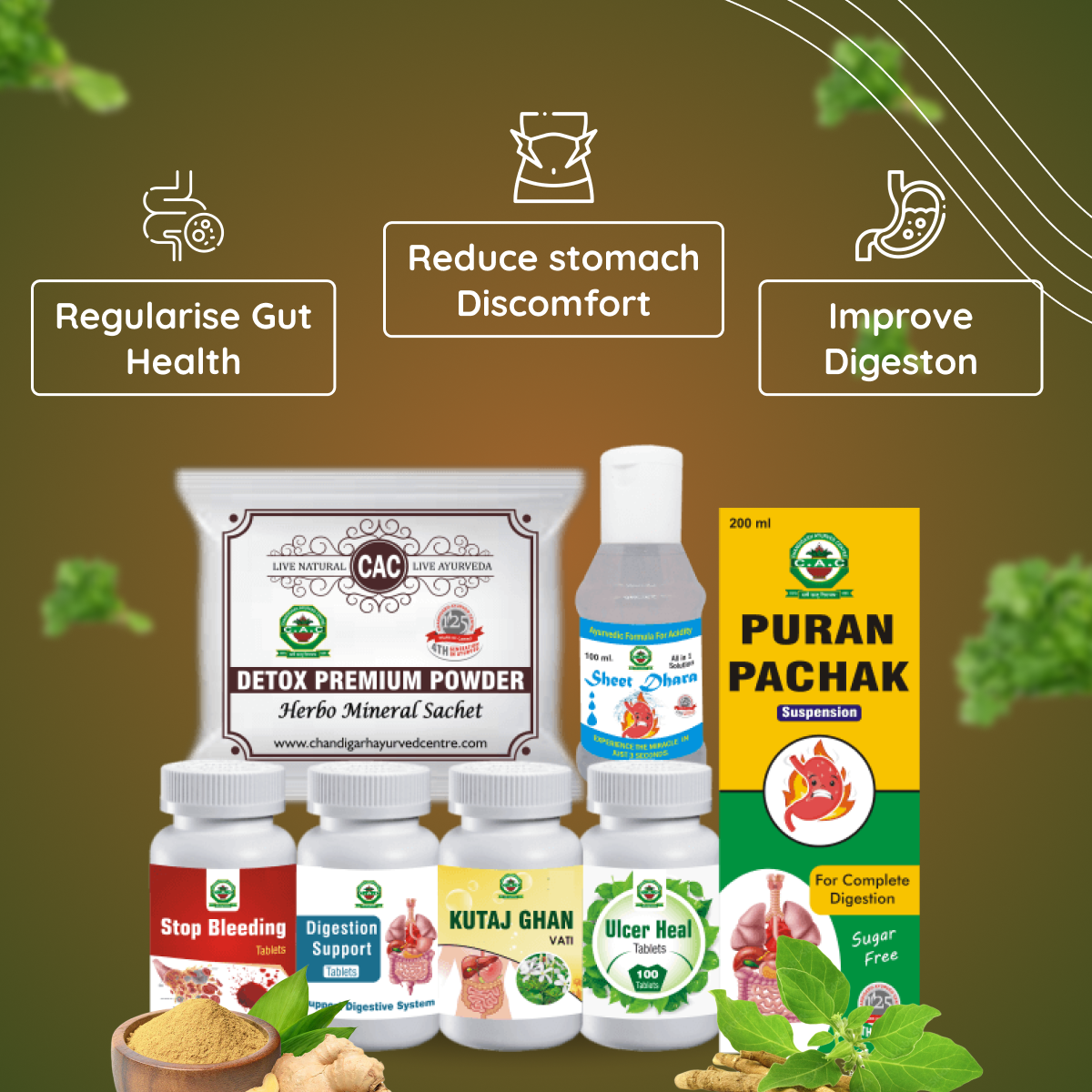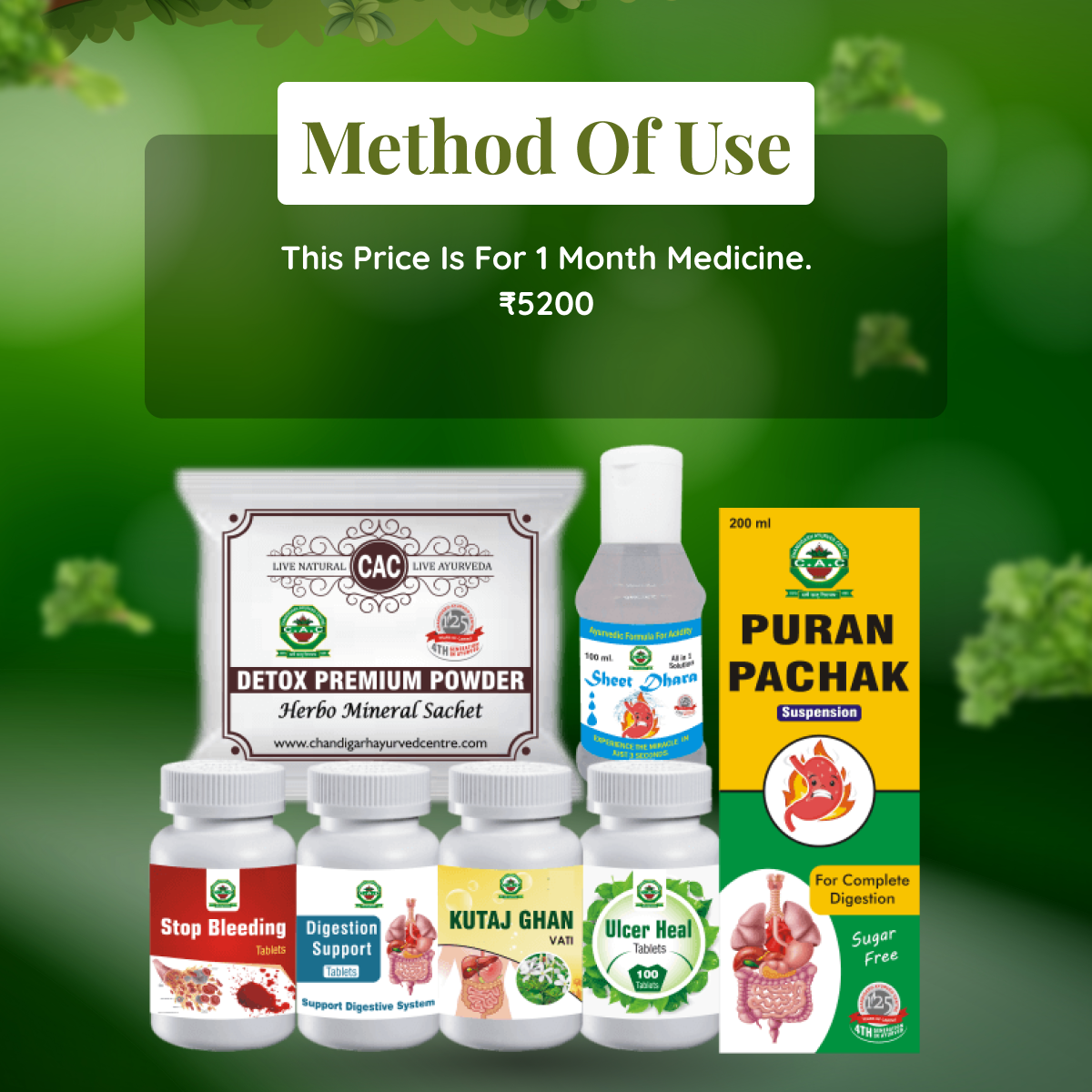 Ulcerative Colitis Care Kit
Sale price
₹ 5,200.00
Regular price
Tax included.
Benefits of Ulcerative Colitis Care Kit
Reduces Gut Discomfort
Manages Blood and Mucus in Stool
Reduces frequent Loose Stools
Regularize Gut Health
Heals Ulcers in GIT
Free Ayurvedic Consultation
100% Pure Ayurvedic
World Wide Delivery
No
Side-Effects

Guarantee safe & secure checkout
Ulcerative Colitis Care Kit
Sale price
₹ 5,200.00
Regular price
Product description
Shipping & Return
Description
Ulcerative colitis is auto-immune disease that causes ulcers and irritation in large intestine of individual. Inflammation usually starts from the rectum and can spread to the colon. This condition comes under group of conditions called Inflammatory bowel disease. There are some factors that contributes to development of this condition like intake of high fat diet , use of NSAIDs , family history of inflammatory bowel disease. Individual with this condition experience symptoms like diarrhea, fatigue, nausea, weight loss, abdominal pain, anemia etc. Person may develop symptoms like fever, blood , pus or mucus in stool, mouth sores , liver disorder etc later if not treated properly.
"DrVaid Ji" Ulcerative Colitis Advance Care Kit" is 100% Herbal and Ayurvedic formulation. The medicines have pitta pacifying properties and also improves digestion which helps in ama digestion. These medicines have analgesic, anti-inflammatory, anti-oxidant and detoxifying properties that helps to relieve the symptoms providing great results in Ulcerative colitis.
Who should take it
1
Medically Diagnosis with Ulcerative Colitis
2
Blood and possibly pus in the stools.
3
Pain in the abdomen (belly area) and cramping.
4
Diarrhea, from only a few episodes to very often.
5
Feeling that you need to pass stools, even though your bowels are already empty
6
Weight loss.
ORDER NOW
Purchases are shipped from our warehouse in Chandigarh (UT) by courier.
Due to COVID-19, we cannot commit on delivery timelines. We do request you to bear with us in the case of slight delays. Please refer to our Covid Safety Measures Policy for more details. As per safety protocols while we are currently accepting online orders to ship within India and worldwide, due to changing nature of the situation, we reserve the right to pause deliveries to any country at any time if so warranted.
Order Deliveries Will Be Made Between
10:00 AM – 6:00 PM Monday – Saturday. Excluding public holidays.
Goods will need to be signed for upon delivery. If you cannot be there to sign for your delivery please suggest an alternative i.e. a family member, colleague, neighbor, etc. However, the brand takes no responsibility for goods signed by an alternative person.
Certain courier partners may request an OTP to complete delivery. This will need to be provided for completion of delivery. OTP will be sent to the number inputted at time of placing the order.
VaidJi is not responsible for damage after delivery.
For all claims for shortages or damages must be reported to customer service within 48 hours of the day of delivery.
Shipping and handling rates may vary based on product, packaging, size, volume, type and other considerations. The shipping and handling charges are given at the time of check out and consumers will know about this before making payments.
We ship your ordered products through Indian Post, the normal service. In India, it takes around 3 to 5 days to deliver the package. Outside India, it takes around 7 to 10 days.
The brand will only be responsible for compliance with export and customs laws of the country where the products are being shipped from. The consignee must ensure compliance with import and customs laws of the country they are having the products shipped to.
The number of products ordered by the customer may exceed the total number permissible by their country for clearance upon arrival. In this regard, the customer must consider these limits placed by their country while ordering products from the brand.
The brand will fulfill all international orders from its end. However, the consignee will be responsible for the entry of the products to the country they have chosen to have the products shipped to and for compliance with all applicable laws pertaining to the same, including without limitation, payment of Customs Duty Charge / Import Duty / VAT / Other applicable government taxes/Convenience charges, etc. on arrival in the destination country.
In the event and for any reason whatsoever, an order does not get cleared by customs in the destination country, the brand may, at its sole and absolute discretion, consider a refund of the customer's order amount after deducting the shipping costs, return duty charges and any other charges incurred by the brand while processing the order and having the products shipped to the customer.
Please confirm that your order and the products therein are in compliance with and the delivery permissible under the laws of your country.
Customer Reviews
Main ulcerative colitis se bahut preshan thi body and anto me dard hamesha rehti thi mujhe kisi ne bataya Dr karanvir ji ke medicine se thik ho sakti hai aaj muje 6 month hogaya ulcerative colitis ki dwai khate huye mujhe 85% thik hu thank you so much Dr vaid ji ........🙏🙏🙏🙏🙏🙏🙏
Main ulcerative se bahut pareshan thi pet me pen blood pahs ke karna aaj main doctor karanveer ji se maine ulcerative colitis ki medicine Li muje 2 month Mai hi bhut araam hai meri problem 60% khtm ho chuki hai Mai bhut khush hu thankyou Dr vaid ji..
work well
Have been using this kit for 45 days now and I can observe lot of changes in gut issues Looks like it is slowly curing the problems.This was very good product.
Very happy with the results. So many good testimonials and happy patients. Good work Dr Vaid Ji.
Very happy with this kit. Bought it for my mother. She has been taking it for 1 year now and can eat everything. Her weight has improved. Doesn't feel irritated and feels good overall. Ordering it again for her. Thankyou DrVaidJi for everything.