Knowledge Base
6 DELICIOUS RECIPES TAILORED TO YOUR DOSHAS
by Dr Vaid Ji on Nov 11, 2023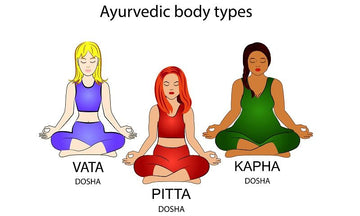 Discover the world of Ayurvedic Cuisine with these 6 delicious recipes designed to balance your doshas. Whether you are AIRY VATA, FIERY PITTA or WATERY & GROUNDED KAPHA, we have a recipe for you.
VATA BALANCING BUTTERNUT SQUASH SOUP


Spiced butternut squash soup which is perfect for colder months.
Root veggies make it vata calming.
Roast the butternut squash, add spices, add water and simmer. Then blend, reheat, garnish with parsley.


VATA BALANCING TOFU STIR FRY
Enjoy the quick and tasty tofu veggie stir fry perfect for weekdays.
Tofu balances dry vata by detoxifying & moisturizing effect.
Fry tofu, veggies, sesame seeds and sesame oil.
Serve with rice or noodles.


PITTA BALANCING KHICHDI RECIPE
An Ayurvedic recipe for detoxification, improved digestion and energy.
Soak moong daal and rice for 3 hours. Fry seeds, ginger, then add rice, dal, veggies, spices, salt. Boil, simmer 30-40mins with 6 cups of water.


PITTA BALANCING CINNAMON & CARDAMOM OATMEAL
Perfect breakfast for Pitta prakriti people.
Heat coconut milk, add ginger, raisins, apples, spices, ghee and oats. Cook, stir and add water if needed. Top with seeds and enjoy the creamy & healthy recipe.


KAPHA BALANCING RED LENTIL LEMONGRASS SOUP
Energize and balance Kapha with this delicious red lentil soup.
Lemongrass paste & Pippali helps in rejuvenation.
Make lemongrass paste, fry, add lentils, simmer and savour.


KAPHA BALANCING SWEET POTATO AND KALE
Stay energized all day with this nourishing dish.
Ginger aids digestion, kale balances kapha.
Dice sweet potato, bake. Cook kale, fry sweet potato with spices. Savour the goodness of dish.