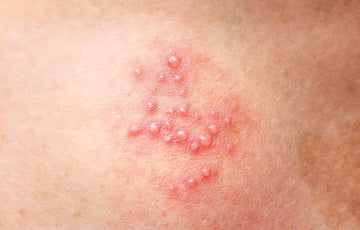 Genital herpes is a sexual infection. Which you can get from your sexual partner. This infection spreads rapidly. Genital herpes is caused by the herpes simplex virus (HSV). It spreads when you have sexual, oral, anal or genital sex. Sometimes even after years of infection you may not develop symptoms. People who have sex often get this disease. you're not alone.
About 1 in 6 Americans have genital herpes. There are approximately 776,000 new cases of HSV-2 each year. This disease is not incurable. It gets cured after getting treatment.
There are 2 types of HSV: herpes simplex virus-1 and herpes simplex virus-2. Wounds are formed from the earlier virus. Whereas other viruses cause genital herpes. It spreads through any kind of sexual contact.
In certain cases risk of genital sores and ulcers is there. Many people have no symptoms of genital herpes, but the disease continues to spread. Herpes is not completely curable disease but  the symptoms can be managed and treated. It is more common in women than in men.  It spreads from men to women. It is more evident in ages below 50 years.
 CAUSES OF GENITAL HERPES
The causative organisms are viruses. These viruses are called herpes simplex-2 (HSV-2). Whereas, HSV-1 causes blisters on the genitals. You get HSV-2 from your sexual partner.
You get infected when because of some reason your body's skin comes in contact with the viruses and they enter it. This infection spreads rapidly. It may not show symptoms but it keeps spreading. Also, having sex, it infects others as well.
Apart from having sex, it is also spread from one to another through clothes. Herpes keeps touching the clothes that the infected person wears. When someone else wears these clothes, then he too gets this disease.
Even normal looking skin can spread the infection. It takes about 4 days to 12 days for the symptoms to start appearing. Genital herpes affects each person differently.
In case of some sort of stress whether physical or emotional or if you take medicines without the prescription then the problem of genital herpes worsens. The spread can also be from fluids from mouth and the genitals.
In genital herpes, there are blisters around the genital area. If there are no blisters, it does not mean that you are not infected. With this you can infect others as well.
SYMPTOMS
It's symptoms are very variable and depends on the person. In certain patients the infection they have progresses even without any evident symptoms.  Some of the symptoms which might appear are:
There may be itching or tingly feeling around the genitals. It is usually painful.
There are small blisters that look like sores. They may ooze blood or pus.
When you get the infection from someone else, symptoms start appearing within a few weeks. You may have a fever, headache, or flu-like feeling the first time this happens.
Some people do not have any symptoms. While some people have mild symptoms.
Women or men who have the infection may not be aware of it.
Blisters present near the vagina can also take the form of ulcers. Along with this there might be some pain in the body also.
Chills, itching, burning or tingling of the skin is also one of the common symptoms of genital herpes.
Infection in the urethra can cause inflammation which causes pain when urinating.
TREATMENT
In modern it is said Genital herpes cannot be completely cured. Doctors can control it by treating its symptoms. The doctor will physically examine you and ask you questions about your disease. In addition, your blood will also be tested.
Keeping the symptoms in mind, the doctor will start giving you antiviral medicine.
These drugs help reduce severe symptoms.
There are two different treatments for genital herpes: suppressive therapy and episodic therapy.
In suppressive therapy, antiviral drugs are given every day to reduce the symptoms of herpes. As the symptoms subside, you will also be able to protect your partner from this infection.
Episodic treatment is preferable for people with severe symptoms.
Genital herpes can also occur inside the vagina. There are blisters inside the vagina. In such a situation, women feel a lot of pain during menstruation. In such a situation, doctors may ask women to use pads instead of menstrual cups.
Wrap ice in a towel to reduce swelling. This can give you relief.
IMPORTANT FACTS ABOUT GENITAL HERPES
Genital herpes can also be passed from mother to child. It is possible to spread the infection from mother to child at the time of delivery. Herpes lesions are less frequent.
Infection depends on whether the mother has sores at the time of delivery.
If there are no signs of vaginal sores at the time of delivery, the mother can give birth to a healthy baby.
If more symptoms of herpes are seen in the mother, then doctors advise the mother to give birth through caesarean operation instead of normal delivery.
Avoid having sex if you are pregnant and you are suffering from genital herpes.
AYURVEDIC MEDICINES BY CAC
1. Detox Premium Powder:
This is a herbo-mineral preparation that contains ingredients like Parwal Pishti, Giloy satv, Shukta Pishti, Kamdudha Ras, Gandhak Rasayan, etc.
Parwal Pishti
: This Pishti reduces inflammation, flaking, itching of the skin. The Pishti is composed of natural coral calcium processed with rose water.
Shukta Pishti
: It helps to balance the Pitta dosha in the body. All signs and symptoms related to Psoriasis patients are managed with this article.
Giloy Satv
: This satv is prepared from the herb Giloy (Tinospora cordifolia). The anti-inflammatory, antioxidant, and analgesic properties of this herb deal with psoriasis easily.
Kamdudha Ras
: This herbal-mineral classical preparation balances Pitta dosha in the body.
Gandhak Rasayana
: This herbal preparation is used since ancient times for all types of skin disorders.
Tal Sindoor
: It contains ingredients like Shuddh parad, Aloe vera, Gandhak, etc that relieve redness in psoriasis patients.
Akik Pishti
: This Pishti reduces all types of Pitta related disorder hence it gives good results in psoriasis.
Recommended Dosage
: Take 1 sachet twice daily with plain water.
2. Blood Purifier Syrup :
It is ayurvedic syrup that consists of various natural ingredients such as Khadir Chall (Acacia catechu), Manjistha (Rubia cordifolia), Neem (Azadirachta indica), Giloy (Tinospora cordifolia), Harad (Terminalia bellirica), Baheda (Terminalia chebula), Amla (Emblica officinalis), etc. As the syrup purifies the blood by removing excess toxins it is very beneficial in maintaining proper circulation and improves the skin naturally.
Recommended Dosage
 – Take 2 teaspoonful twice daily.
3. Skin Care Plus tablet:
skin care tablet is a pure ayurvedic formulation. It help to maintain the texture of your skin depending on the type of skin you have. It contains various herbs like Haridra khand, Panchnimb churna, Khadir chahal, Chirayta, Mulethi, Chopchini, Gandhak, Ajmoda that work very effectively on all skin types. Skin care is a blood purifying tablet. It cools and detoxifies the blood, increase blood circulation of the skin. It minimizes the blemishes, lighten sun tan, delay ageing of skin and heal skin problems.
Recommended Dosage
: Take 1 tablet twice daily.
4. Panchatikta Ghrita Guggulu:
Panchatikta Ghrita Guggulu is an ayurvedic preparation mainly used for skin diseases. This tablet contains pure herbal ingredients such as Nimba(Azadirachta indica), Patola(Cucumis acutangulus), Guduchi(Tinospora cordifolia), Vasa(Adhatoda vasica), etc. This tablet promotes detoxification and rejuvenation. Panchatikta Ghrita Guggulu tablet is a natural source of anti – oxidant. It promotes engender vibrant and healthy skin.
Recommended Dosage
–Take 1 tablets twice a day with normal water.
5. Twak tailam
CAC 
TWAK TAILAM
 is the herbal oil and is purely Ayurvedic preparation. CAC Twak Tailam provides relief from various skin problems such as 
pimples, blemishes, scars, ulcers, wounds, skin rashes, dry patches, itching, skin irritation, reduces redness
, etc. It is composed of natural herbs that pacifies all three doshas and provides healthy skin. This oil is made up of pure herbs such as yashtimadhu (Glycyrrhiza glabra), manjistha (Rubia cordifolia). Twak tailam supports skin health, helps in reducing uneven pigments
, delays the process of ageing, improves complexion, and helps in deep detoxification, blood purification without any side effects
. This oil moisturizes your skin, and 
makes your skin spotless and glowing naturally
. it is also used to treat skin infection, Candidiasis.