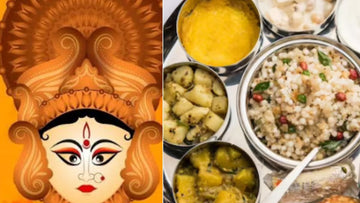 NAVRATRI SATVIK DIET PLAN FROM MORNING TO EVENING WHAT TO EAT
A Navratri satvik diet typically involves consuming simple, vegetarian, and non-onion, non-garlic foods. Here's a general diet plan from morning to evening during Navratri:


MORNING:
Breakfast:
Fruits like bananas or apples.
Sabudana khichdi or kuttu (buckwheat) dosa.
Mid-morning:
A handful of mixed nuts (almonds, walnuts, etc.).
LUNCH:
Samak (barnyard millet) rice or kuttu puri.
Potato curry or pumpkin curry.
Plain yogurt or buttermilk.
A side of cucumber or carrot salad.
Snack (Evening):
Fruit salad with yogurt dressing.
Makhana (foxnuts) or roasted peanuts.
DINNER:
Singhare ka atta (water chestnut flour) roti or sama (little millet) rice.
Lauki (bottle gourd) curry or arbi (colocasia) curry.
A side of plain yogurt or buttermilk.
Green salad with rock salt.
Bedtime (if needed):
A glass of warm milk with a pinch of saffron.
Remember to avoid onion, garlic, and non-vegetarian foods during Navratri. Additionally, use sendha namak (rock salt) instead of regular salt. Adjust portion sizes based on your hunger and dietary requirements, and consult with a nutritionist or dietitian for a personalized plan if necessary
5 COMPLETE SATVIK RECEPIES FOR NAVRATRI
SABUDANA KHICHDI:


Ingredients: Sabudana (tapioca pearls), peanuts, green chilies, curry leaves, cumin seeds, potatoes, and sendha namak (rock salt).
Instructions: Soak sabudana, and then stir-fry with chopped potatoes, peanuts, and spices.
KUTTU KI PURI:


Ingredients: Buckwheat flour (kuttu ka atta), mashed boiled potatoes, sendha namak, and ghee.
Instructions: Make a dough with these ingredients, roll it into puris, and deep-fry them.
ALOO JEERA:


Ingredients: Boiled and diced potatoes, cumin seeds, green chilies, ghee, and sendha namak.
Instructions: Sauté cumin seeds and green chilies in ghee, then add boiled potatoes and cook until lightly crispy.
SAMA RICE (BARNYARD MILLET) UPMA:


Ingredients: Sama rice, green chilies, curry leaves, cumin seeds, and grated coconut.
Instructions: Roast sama rice, then cook it with spices and coconut to make a flavorful upma.
CUCUMBER RAITA:


Ingredients: Grated cucumber, plain yogurt, sendha namak, roasted cumin powder, and chopped mint leaves.
Instructions: Mix grated cucumber, yogurt, and spices, and garnish with mint leaves.
These recipes are delicious, filling, and adhere to the principles of a satvik diet suitable for Navratri. Remember to use sendha namak (rock salt) and adjust the spice level to your preference.
COMMON FOOD ITEMS TO BE TAKEN IN NAVRATRI
During Navratri, common food items that are typically consumed in a satvik (pure) diet include:
Fruits: Various fruits like bananas, apples, pomegranates, and melons are commonly enjoyed during Navratri.
Sabudana (Tapioca Pearls): Sabudana is a staple during this festival and is used to make dishes like sabudana khichdi and sabudana vada.
Buckwheat (Kuttu): Buckwheat flour is used to make dishes like kuttu ki puri and kuttu dosa.
Makhana (Foxnuts): Makhana is roasted and consumed as a healthy snack.
Barnyard Millet (Sama Rice): Sama rice is used to prepare dishes like sama rice khichdi and upma.
Potatoes: Potatoes are a versatile ingredient in many Navratri dishes like aloo jeera and vrat ke aloo.
Yogurt: Plain yogurt or buttermilk is often consumed to complement the meal.
Paneer (Cottage Cheese): Paneer is used to prepare dishes like paneer tikka or paneer curry without onion and garlic.
Nuts and Seeds: Almonds, walnuts, peanuts, and other nuts and seeds are often eaten as snacks.
Sendha Namak (Rock Salt): Instead of regular salt, sendha namak is used for seasoning dishes.
Spices and Herbs: Commonly used spices and herbs include cumin seeds, green chilies, ginger, and fresh cilantro.
Ghee: Ghee is used for cooking and adds flavor to many Navratri dishes.
Remember that during Navratri, it's important to follow the guidelines of a satvik diet, which excludes onions, garlic, non-vegetarian foods, and grains like wheat and rice. Additionally, people may have regional variations and preferences when it comes to Navratri foods.