Knowledge Base
DIABETES TYPE II : A LIFESTYLE DISORDER
by Dr Vaid Ji on Nov 17, 2023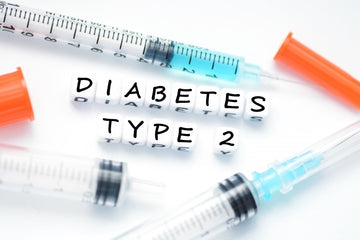 WHAT IS DIABETES TYPE II ?
Type 2 diabetes is a chronic condition characterized by insulin resistance, where the body's cells don't respond effectively to insulin. Initially, the pancreas compensates by producing more insulin, but over time, it may not produce enough. Type 2 diabetes is often associated with lifestyle factors such as obesity, physical inactivity, and genetics. Type 2 diabetes is mainly a lifestyle disease. 
CAUSES OF DIABETES TYPE II :
The primary causes of type 2 diabetes include:
Insulin Resistance: Cells become less responsive to insulin, making it difficult for glucose to enter cells for energy.
Genetics: Family history can contribute to an increased risk of type 2 diabetes.
Obesity: Excess body weight, particularly around the abdomen, is a significant risk factor.
Physical Inactivity: Lack of regular exercise can contribute to insulin resistance.
Age: The risk increases with age, especially after 45.
Unhealthy Diet: Diets high in processed foods, sugars, and unhealthy fats can contribute to the development of type 2 diabetes.
Ethnicity: Some ethnic groups, such as African American, Hispanic, Native American, and Asian American, have a higher risk.
Gestational Diabetes: Women who had gestational diabetes during pregnancy are at a higher risk.
LIFESTYLE RELATED FACTORS :
A diet high in fats and carbs.
High alcohol intake
Sedentary lifestyle
CAUSES OF DIABETES TYPE II ACCORDING TO AYURVEDA (NIDANA OF PRAMEHA) :
the person who consumes food substances with guru and snigdha qualities,
different arrangement of curd,
soups of meat of domesticated and aquatic animals belonging to marshy land,
various dairy products,
freshly harvested food articles, freshly prepared drinks & various preparations of jaggery,
interest in sedentary habits,
pleasure of sleep.
All these causative factors are related to lifestyle of the individual. So DM II is mainly a lifestyle disorder.
SYMPTOMS OF DIABETES TYPE II :
Symptoms of type 2 diabetes often develop slowly. When symptoms are present, they may include:
increased thirst
Frequent urination.
Increased hunger.
Unintended weight loss.
Blurred vision.
Slow-healing sores.
Frequent infections.
Numbness or tingling in the hands or feet.
Areas of darkened skin, usually in the armpits and neck.
MANAGEMENT OF DIABETES TYPE II VIA LIFESTYLE MODIFICATION
Stress management:  Managing stress and staying motivated can reduce the risk of diabetes.
Dietary changes:  High consumption of vegetables, fruits, legumes, nuts, cereals, fish, and lean meat prevents weight gain and avoid the risk of type 2 diabetes.
Dietary management of diabetes includes:
Decreased sugar and refined carbohydrates intake
Eat lean meats and avoid processed red meat: Eating red meat, such as beef, lamb, and pork, every day causes a 20% increase in the risk of developing type 2 diabetes.
Fat intake: Fat intake should be reduced.
Increased fibre intake.
Water intake
Quit smoking
Quit alcohol
MANAGEMENT OF DIABETES TYPE II IN AYURVEDA
In ayurveda,
NIDANA PARIVARJANA
is mentioned which is equivalent of lifestyle modification and dietary changes.
Apart from this, pathya-apathya (do's and don'ts) are also mentioned :
PATHYA (FAVORABLE DIET) :
Yava , Methika ,Kharjura, Godhoom ,Nimba ,Kamala ,Shyamaka ,Karavellaka ,Utpala ,Kodrava, Patola , Bajara ,Rasona, Mudga ,Udumbar ,Purana Sura, Chanaka, Tala Phala, Sarsapa ,Tikta Shaka, Ingudi ,Goghrita.
Amlaki: Amla fruits are a relevant source of protein, minerals such as (iron, calcium, and phosphorous) and fat. An important component found in Amla fruit is ascorbic acid (Vitamin-C). So it used in cure to Madhumeha.
Haridra: Haridra is Katu, Tikta and pacify Kapha- vata. So it can be included in the diet on a regular basis.
Yava: Yava is Ruksha, Sheeta, Guru, Madhura. It is Kaphahara & Balya hence is best for both thin & fat patients.
Madhu: It is Guru, Ruksha, Kashaya  & it pacifies Pitta- Kapha
 PATHYA VIHARA (FAVORABLE LIFE STYLE) :
Walking
Exercise daily for 30-45 minutes
Yoga asanas.
APATHYA AAHAR (UNFAVORABLE DIET) :
Milk , curd, jaggery, white rice, bakery products, sugarcane, fried foods, sugary cereals, sugary drinks, processed meats, red meat, packaged food items.
APATHYA VIHAR (UNFAVORABLE LIFE STYLE):
Prolonged sitting , excessive sleeping, day time sleep.
CAC MANAGEMENT OF DIABETES MELLITUS
DIABETES MELLITUS CARE KIT
Chandigarh Ayurved Centre provides you the best herbal and natural remedy ''Diabetes Mellitus Care Kit'', which cures the disease from its root with no other complications. The regular use of this kit shows a proven result.
ALL PRODUCTS DESCRIPTION IN DETAIL-
Madhumeha Kusumakar Rasa:
Madhumeha Kusumakar Rasa contains Suvarnayukta Vasant Kusumakar Rasa 10 mg, Mamejjaka Ghana 30 mg, Haridra 50 mg, Amalaki 50 mg, Guduchi 50 mg, Shuddha Shilajatu 40 mg, Yashada Bhasma 5 mg Processed in Bilva Patra Swarasa, Asana Kwath q.s. as active ingredients. Key benefits of Madhumeha Kusumakar Rasa:
Effectively treat diabetes and its complications.Help in reducing blood and urine sugar effectively due to their Kapha and Meda Pachak action. Also, prevents eyes from bad effect of Diabetes.
Recommended Dosage: Take 1 tablet twice a day with normal water.
Ashwagandha Tablet:
These tablet are pure Ayurvedic preparation which contains pure extract of Ashwagandha. Ashwagandha is used for arthritis, anxiety, bipolar disorder, insomnia, tumors, tuberculosis, asthma, leukoderma, bronchitis, backache, fibromyalgia, menstrual problems, and chronic liver disease. Ashwagandha shows antioxidant, anti-inflammatory, anti-diabetic, anti-cancer, anti-stress properties. It also regulates sugar metabolism and cholesterol.
Recommended Dosage: Take 1 tablet twice a day with normal water.
Diabo care tablet:
These tablets are pure Ayurvedic formulation. It contains herbal ingredients such as Karela, Jamun, Ashwagandgha, Gurmur, Shuddha Shilajeet, Neem, Dalchini. It Maintains overall health and wellbeing, best for the liver detoxification and controls high blood pressure. It maintains the blood sugar level. Jamun is well known to be effective in the treatment of Diabetes, thus it reduces the level of glycosuria. It contains Polypeptide-p which has shown to control diabetes naturally.
Recommended Dosage: Take 1 tablet twice daily.
Diabo Care Kadha:
Diabo kadha is based on ancient Ayurvedic Science which includes ingredient like Dalchini (Cinnamomum zeylanicum), Methi dana (Trigonella foenum- graecum), Ashwagandha (Withania somnifera), Haldi (Curcuma longa), etc. Diabo kadha increases the uptake of glucose by the cells, regenerate lipid mechanism, preventing micro-vascular damage and diabetic retinopathy. It also helps in the burning of palms and soles, wounds that take time to heal, skin infections, unexplained extreme fatigue, etc.
Recommended Dosage: Take 20 ml twice a day with normal water.
Shilajit Satva:
CAC Shilajit is available in the form of Shilajit Satva. It is a potent Immunity Booster and acts as an antioxidant, possesses anti-inflammatory properties. It has a tremendous effect on Male Harmones, Anaemia, Alziehmers disease, improves brain functions, Fatigueness, various Tumours and Cysts like PCOD in females. Due to its anti-inflammatory properties it works on inflamed lymph nodes as well. It balances blood sugar, increases absorption of nutrients, helps in detoxification, helps in reducing mood swings.
Recommended Dosage: As directed by physician.